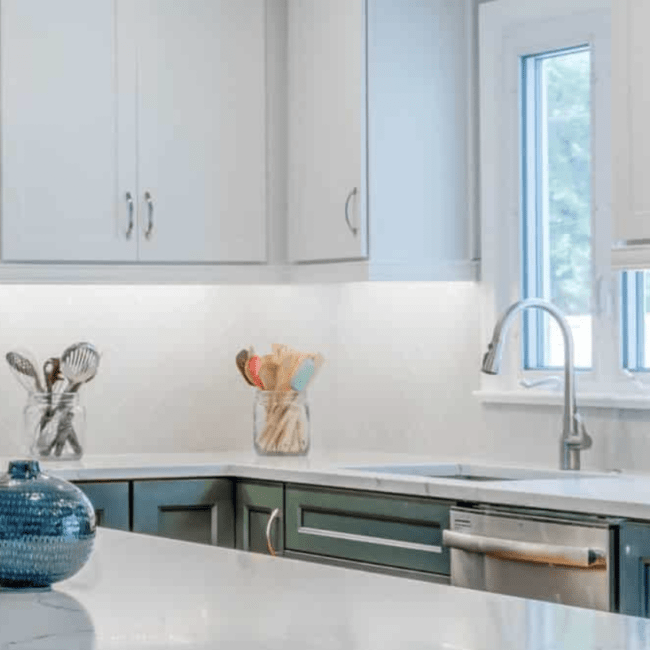 Before you decide to remodel your entire kitchen, it is essential to look at top trends in kitchen remodeling in Ashburn. The kitchen today represents a cozy environment. Changing social dynamics and technological innovations have given a new meaning to this place. 
Once confined to a corner of the household, kitchens today are in the foreground now. A perfect blend of aesthetics and functionality, modern kitchens are central to any home.
The latest kitchen design trends revolve around the idea of open space with plenty of natural light for a brighter environment. If you are thinking of renovating your kitchen, here are the top trends in kitchen remodeling in Ashburn, which our experts believe are popular this year.
Open Spaces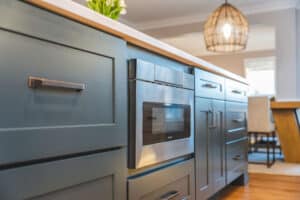 Going by the idea that kitchens are not an environment restricted to meal preparation only, open space kitchens integrated with the living room are one of the top trends in kitchen remodeling in Ashburn. The dining area and the living room combine in a single space to better accommodate the whole family for meals and meetings.
Hidden Appliances
While showcasing all the fancy equipment of the kitchen was a decor trend some years past. Currently, a more uniform-looking kitchen environment with appliances hidden from sight is trending.
Kitchen furniture with retractable doors that open up to reveal appliances. You can use this to accommodate refrigerators and other equipment. It gives a clean homogenous appearance to the kitchen, making it a more serene environment free from regular clutter.
Bold Backsplash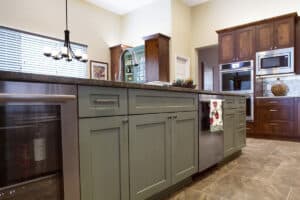 The kitchen backsplash has always been a creative landscape for homeowners. A bold backsplash is one of the top trends in kitchen remodeling in Ashburn.
Bold backsplash with solid, darker shades is trending this year in Ashburn. Moreover, extensive use of glass for a sophisticated and elegant look is also gaining popularity among homeowners.
Trendy Hoods
One of the particularly notable trends in kitchen remodeling in Ashburn is using kitchen hoods. Besides keeping the kitchen environment fresh and free from foul odor, hoods have found a different purpose in a modern kitchen. 
Consequently, you can use them as decor in your kitchen. Similarly, modern and stylish hoods have become a real decorative element in the kitchen.
Chic Lighting Fixtures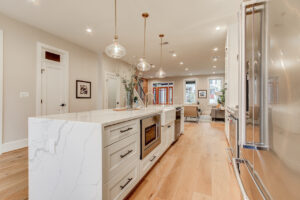 Lighting plays a crucial role in defining a kitchen environment. Among kitchen lighting, pendant lamps over the island and worktop are the top trends in kitchen remodeling in Ashburn this year. 
Further, these chic lightning fixtures are often made of bamboo or rattan, creating an elegantly stylish yet intimate and welcoming environment.
Smart Kitchens
As with any other aspect of modern-day household, technology is becoming indispensable to the kitchen environment too. Hence, an intelligent kitchen armed with the latest technological innovations is the trend of the moment. 
Interestingly, more and more kitchen remodel projects in Ashburn are solely done to integrate the latest technology. For instance, smart appliances to high-tech faucets and light fixtures are common features now. Similarly, homeowners are experimenting with novel technologies that bring more functionality and comfort to the kitchen.