The choice of flooring is among the most basic yet important decisions you have to when undertaking a remodeling project, as it underpins everything else. Although there are many different options, from tile to terrazzo, one material is the always acknowledged standard: wood flooring.
However, not all hardwood flooring is created equal, and selecting the right product isn't simply a matter of choosing the desired color. A range of other factors can have an impact on both aesthetics and performance.
Interestingly, there are many options for wood that you can choose for your kitchen flooring, each of which has different relative advantages and disadvantages. Read on to learn more about the wood flooring types and the factors to consider when choosing which kind you want to use.
What Is Wood Flooring?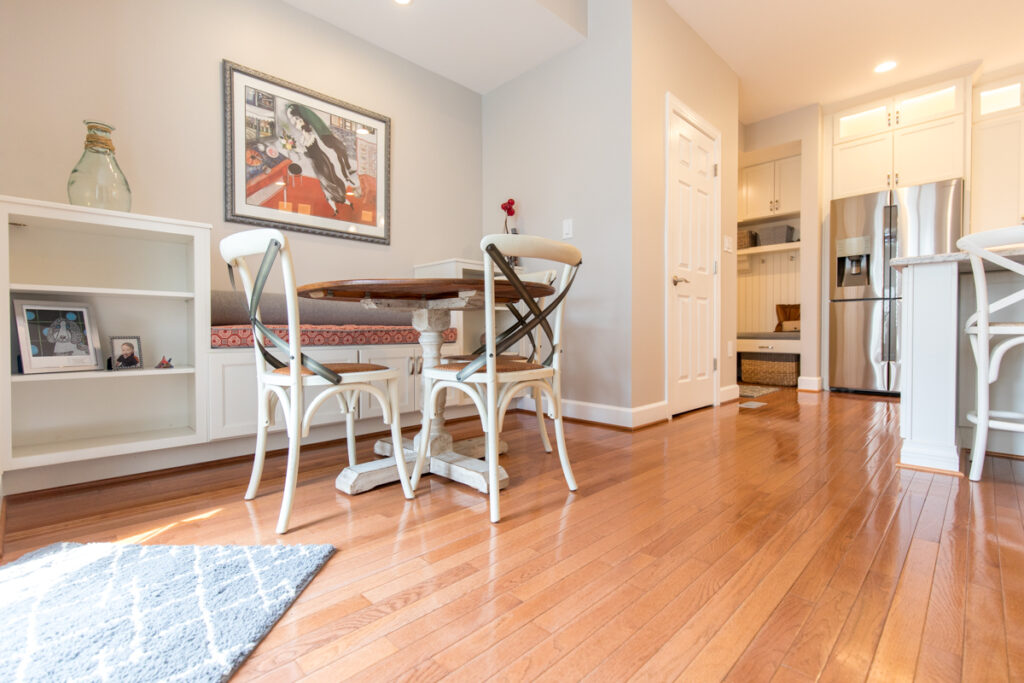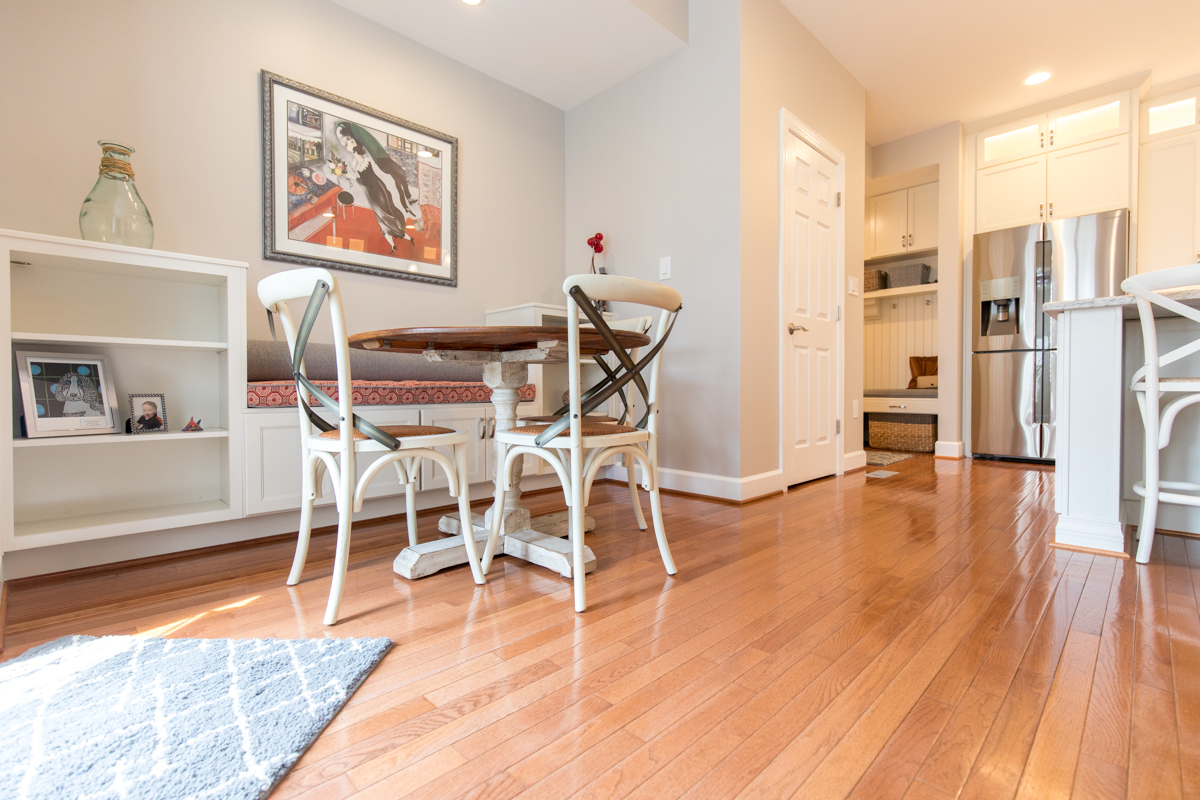 Wood flooring is any type of permanent floor with a wooden appearance, whether made out of natural or synthetic lumber. Further, wood is a versatile flooring material that comes in several colors, styles, and species. However, there are mainly two types of wood flooring: solid wood and engineered wood.
Solid wood flooring is made from solid planks of lumber. On the other hand, engineered wood has a lumber veneer over a synthetic, reinforced underlayment made of something other than wood.
Here is a little more information about both of these types of flooring:
Solid Hardwood Flooring
Solid hardwood floors are made up of solid, wide planks of hardwood fitted together using the tongue and groove method. Moreover, this hardwood is the longest-lasting kind of wood flooring but also the most expensive.
Further, it is vulnerable to humidity, so you should not use it in high-moisture areas of the house or on the ground floor of your floor plan. Sanding down your wood flooring every few years can help extend the life of your solid wood floor.
Engineered Hardwood Flooring
Engineered wood floors incorporate laying a top layer of wood over a subfloor (made of multiple layers of wood and synthetic materials such as concrete).
However, engineered wood is slightly cheaper than solid wood flooring and also holds up better against moisture and humidity than solid hardwood, though it is not completely water-resistant. This makes it a great option when it comes to basement flooring.
However, you cannot sand engineered wood flooring and refinished regularly as solid wood flooring can. 
Wood Species (Types of Wood Flooring)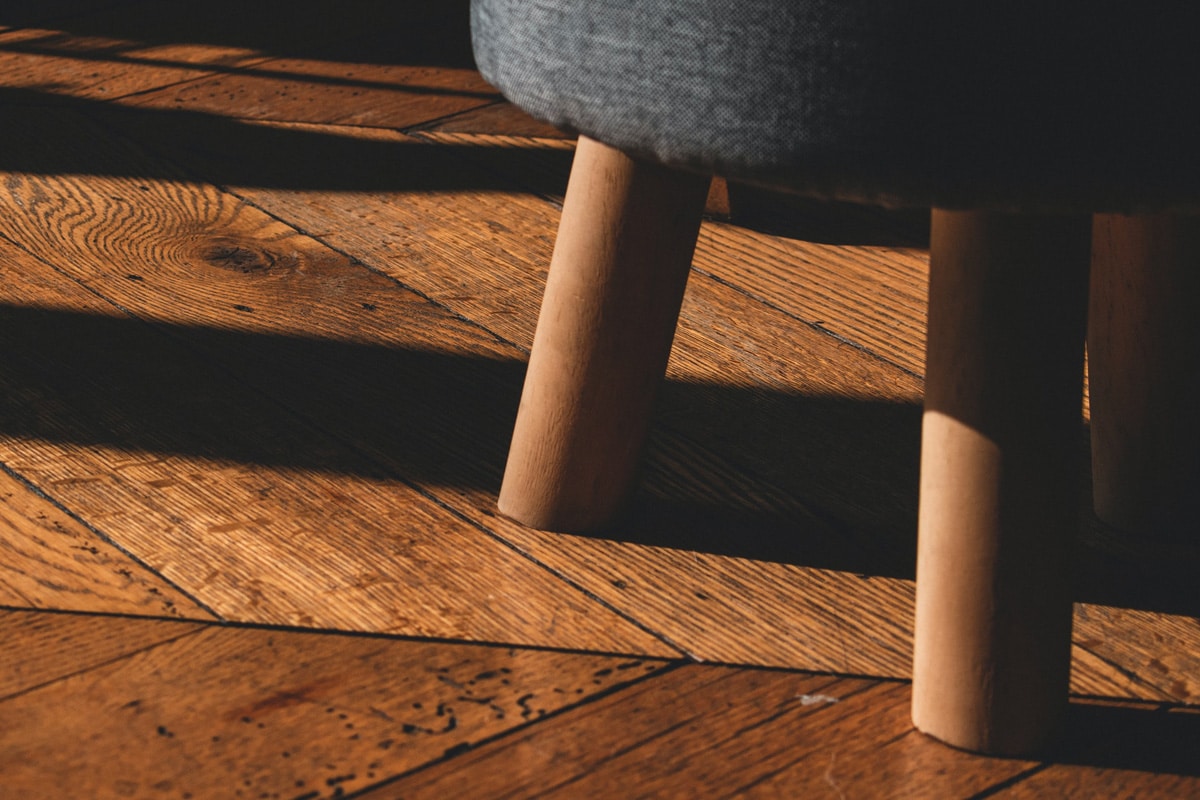 Wood species refers to the type of tree it comes from. Furthermore, the look and feel of a hardwood floor are hugely determined by its species, and there are dozens of species to choose from. 
But before we dive into the specifics of your wood flooring options, we need to know about the Janka Scale.
The Janka Scale
Janka scale is used to measure the hardness of different types of wood flooring. Besides, it is the universal guide to a wood flooring's resistance to denting and wear. 
The Janka scale measures pounds of force required to push a steel ball halfway through a piece of wood. Consequently, the more pounds of force needed, the harder the wood.
| | |
| --- | --- |
| Wood Species | Janka Rating [Soft to Hard] |
| Douglas Fir | 660 |
| S. Yellow Pine, Shortleaf | 690 |
| S. Yellow Pine, Longleaf | 890 |
| Black Cherry | 950 |
| Teak | 1000 |
| American Walnut | 1010 |
| Heartpine | 1225 |
| Yellow Birch | 1260 |
| Red Oak | 1290 |
| American Beech | 1300 |
| Ash | 1320 |
| White Oak | 1360 |
| Australian Cypress | 1375 |
| Hard Maple | 1450 |
| Wenge | 1620 |
| African Pedauk | 1725 |
| Hickory | 1820 |
| Pecan | 1820 |
| Purpleheart | 1860 |
| Jarrah | 1910 |
| Merbau | 1925 |
| Santos Mahogany | 2200 |
| Mesquite | 2345 |
| Brazilian Cherry | 2350 |
| Brazilian Walnut | 3800 |
As you can see, Douglas Fir has a Janka rating of 660. This means it can only take 660 pounds of force to push a steel ball into it, making it a not-so-good flooring option.
Brazillian Walnut, on the other hand, has a Janka rating of 3800. This means it can take 3,800 pounds of force to do the same, making it among the best flooring options. 
Best Wood Flooring Options to Choose From

Oak Flooring
Oak is by far the most popular kitchen wood flooring option right now. Further, most domestic oak flooring is one of two types, either red oak or white oak.
Red Oak: It is the warmer of the two. Also, it produces floors with red, pinkish, or rust undertones and has a perfect amount of grain variation, which gives a character.
White Oak: In contrast to Red Oak, this tends to have cooler, gray-green undertones and a smoother, more uniform grain appearance, but with less character and variations. 
Walnut Flooring
Although it is softer compared to other hardwood flooring options, walnut boasts rich, chocolate-brown color and beautifully detailed graining. If you are looking for something that actually feels luxurious, walnut floring is an excellent option. 
Note that we are talking about American walnut and not Brazilian walnut. While they may look similar, they are entirely different types of wood flooring. 
Maple
Maple flooring is second only to oak in terms of reputation. Ranging from pale, creamy white to light, reddish-brown, maple floors are admired for their fine, subdued grain.
Just beware that maple can be challenging to stain (but it does take neutral finishes well). Further, it is one of the harder domestic species, with a Janka rating of 1450. 
Hickory
If you are looking for a hardwood floor with a lot of character, hickory might be the right flooring option for you. Its grain is complex and varied, so it's best displayed in long, wide planks. Just like oak and maple, hickory scores big on the Janka scale with a rating of 1820.
Teak
Teak is an exotic wood flooring and is full of natural oils that make it shine a lot, even with a minimal finish. However, the cost of the flooring is higher than most, but its warmth and radiance can make it an enduring favorite. Also, it has a high Janka rating of 2330, making it an excellent choice for houses with pets and kids.