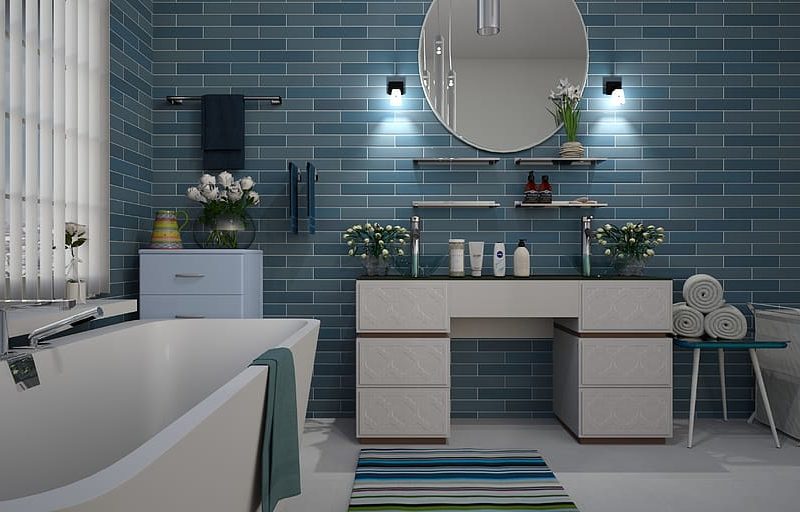 Are you considering remodeling your bathroom? We understand that you might be thinking of replacing your old fixtures or freshening up the paint, or revamping the ceiling. Whether you wish to go with our complete bathroom renovation or make a few small updates, you'll need a budget and an understanding of bathroom remodel costs.
Before you put together a proper budget, you should calculate the average cost of a bathroom remodel. It might sound intimidating but worry not. Our ultimate guide to bathroom remodel costs is here. This guide will help you with your remodeling project.
Whether you want a spa-like bathroom or a simple traditional one; Once you have the information about the costs with you, you can now take the trouble of going for new fixtures and picking out new bathroom tiles.
How Much Does It Cost To Remodel a Bathroom?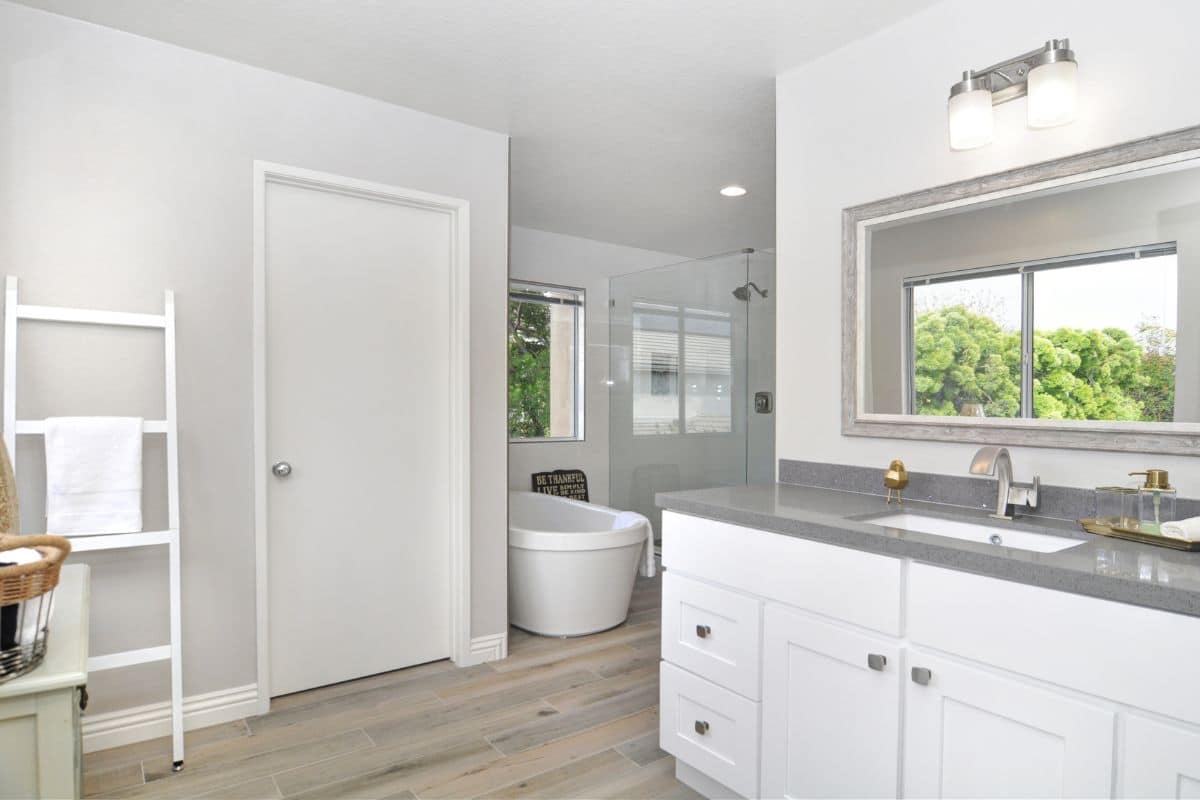 According to Remodeling magazine, the national average for a complete bathroom remodel is $16,200. Interestingly, the magazine also reports that this improvement will increase your home's resale value by an average of $11,688. However, in your area, you can remodel your bathroom for around $5,000 and turn your efforts into home equity gold.
Further, the figures of the remodeling magazine are based on a bathroom of 5×7 feet. Do keep in mind, it is the main bathroom and not a master bathroom. This remodel work would include all new floor tiles, a new tub, toilet, and vanity with top and built-in sink. Also, it includes new paint, hardware, faucets, and lighting fixtures.
It would be wise to note that this does not include any structural work, new appliances, or moving plumbing locations.
When it comes to remodeling a bathroom, 50 to 75 percent of the total remodeling cost goes into labor—assuming that you are contracting out all the work, you have to be reasonable regarding the materials you choose.
This does not include any structural work, new electrical, or moving plumbing locations. Consequently, in this project, your most potent money-saving tool is knowledge and negotiation.
Moreover, you need to find a good bathroom remodeling contractor near you and reduce those labor costs while achieving quality work and providing worthwhile work and profit to your contractor.
Bathroom Remodel Costs by Scale
5 x 7 Bathroom Remodel Cost
The average cost to remodel a 5×7 bathroom ranged between $3,500 to $7,000. A 5×7 bathroom totals 35 square feet. This is typically the smallest full bathroom you can find.
You can fit in a tub or shower alcove with a small vanity and toilet. Besides, the layout at this site is usually constrained. The most prevalent layout involves the sink and toilet on one wall. The tub and shower are on the adjoining wall that is perpendicular to the sink and toilet. Plumbing will be located on the same side.
5 x 8 Bathroom Remodel Cost
The average 5×8 bathroom remodel costs between $4,300 and $8,200. Overall, a 5×8 bathroom measures 40 square feet. Being one of the more prevalent sizes for a full bathroom, you can fit in a tub, shower alcove with a small vanity, and toilet.
There's 5 square feet extra which means you can vary the placement of fixtures more easily. You can place the sink and toilet on opposite walls or arrange a corner shower rather than an alcove tub and shower.
5 x 10 Bathroom Remodel Cost
Remodeling cost for a 5×10 bathroom ranges between $5,000 and $10,000. A bathroom with these dimensions is considered a full-size bathroom. Further, it is large enough for a separate tub and shower or a tub and shower alcove. At 50 square feet, you can vary the arrangement of the space. Also, you can use a corner tub or include a double vanity or linen tower unit. 
7 x 7 Bathroom Remodel Cost
Remodeling a 7×7 bathroom costs around $6,000 to $9,800. With these dimensions, it is also considered a large full bathroom. You can have a separate tub and shower. However, the shower cannot be large. You can install showers with a soaking tub, double vanity, or additional storage according to your needs. 
8 x 10 Bathroom Remodel Cost
An 8×10 bathroom remodel costs about $8,500 to $16,000. A bathroom with these dimensions is common for a Jack and Jill bathroom. This is because it usually connects two bedrooms and has two entrances. 
At this size, you can include two separate sinks and a double vanity unit. Also, you can put the toilet into its own closet or vary the arrangement. 
10 x 10 Bathroom Remodel Cost
A 10×10 bathroom remodel costs around $10,00 to $20,000. A bathroom with these dimensions is considered a master bathroom. At this size, you can have endless ways of arranging the space according to your needs.
Bathroom Remodel Costs: The Ultimate Guide
1. Call the Plumber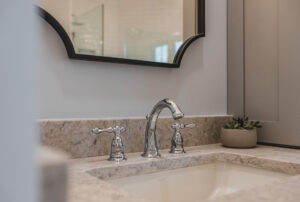 When it comes to a basic bathroom, you would have to pay the plumber to plan and prepare for the remodel. You will also pay for the fitment and installation of –
1) Bathtub
2) Shower
3) Sink
4) Toilet
The plumber will charge for hooking up the new fixtures to the current plumbing.
What about the old fixtures? The cost associated with getting them removed would be between $450-650. It might take about 10 hours for a team of plumbers to remove the old plumbing fixtures.
Plumbers typically charge between $45-65 per hour. A primary plumbing job might take a time duration of 46 hours. For the task of plumbing, you are bound to pay around $2000-3000.
Though this is just the cost of your plumbing work, we would be coming to the fixtures' price next. The plumber will charge for putting up the new fixtures to the current plumbing.
There would be a cost associated with removing the old fixtures, and the average cost associated with this aspect of a bathroom remodel costs would be $450-650. It will take roughly 10 hours for a team of plumbers to remove the old plumbing fixtures for your bathroom remodel.
2. Important Bathroom Fixtures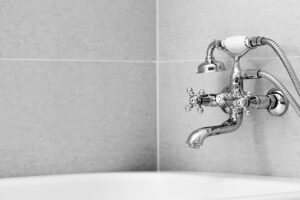 The cost of a new bathroom will depend on quality and style. You can opt for a basic toilet and spend between $150-200. If you choose the trendy washlet or the remote activated smart toilet, your budget might be set back by 900-4000$. Your new sink might set you back by about $100-500.
Bathtubs and showers for even the people who are the budget-conscious renovators cost the most. You can expect that a new shower would cost $400-2000. If you are going for the lowest cost tub, you will pay between $400-1500. Jetted tubs are the season's flavor for some homeowners, but they need more maintenance than an average bathtub.
3. Cabinets and Countertops for Your Bathroom Remodel
The kitchen is where the heart of any home lies. Similarly, cabinets and countertops are the heart of the bathroom design.
For countertops, a wide range of surfaces would be available for you to choose, but currently, granite, marble, and quartz are the most popular countertop materials. You will end up paying $900-7000 depending on the quality of the materials you choose.
It is the same proposition when you go for installing new cabinets. Price would be directly affected by the quality, and you would end up paying $1200 on the lower end to $13000 and more against best quality wood cabinetry.
4. From Floor to Ceiling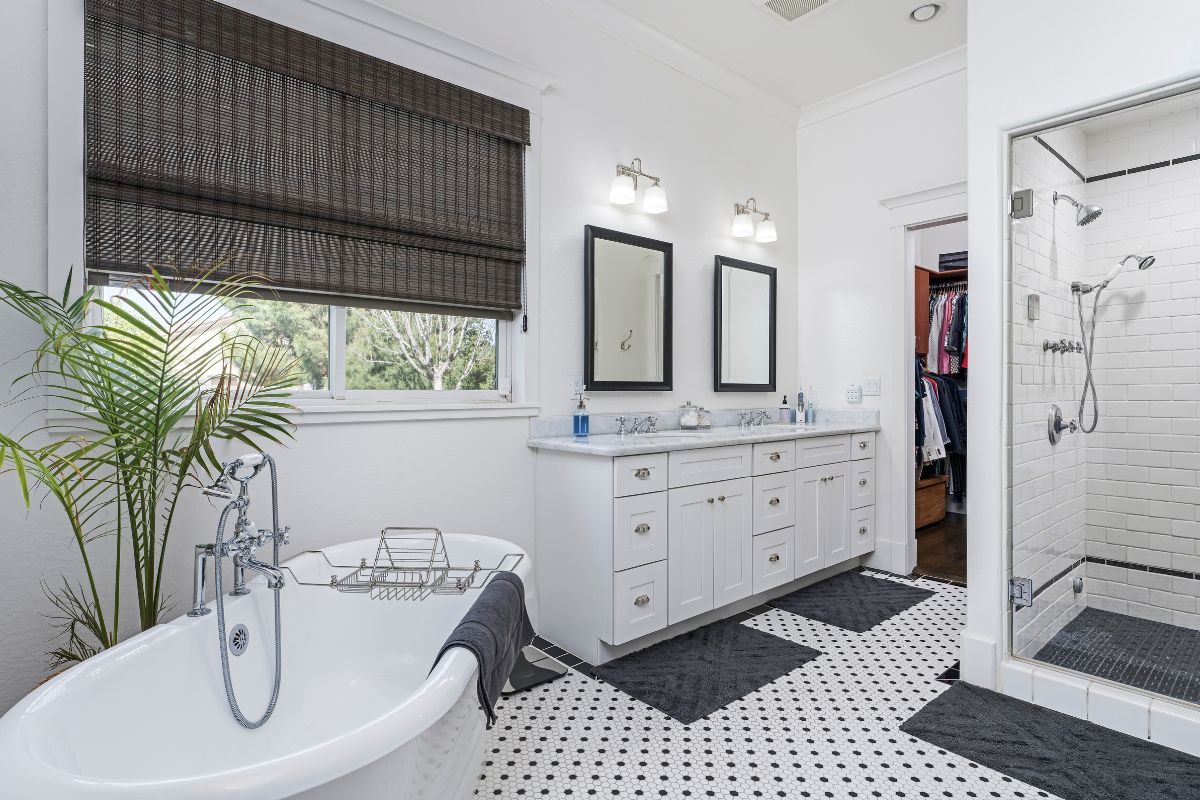 Most homeowners choose the tile flooring and walls for their bathroom renovations. It makes sense as the tile is reasonably priced and ideal for wet environment found in the bathrooms. The tile prices start at around $2 per square foot if opting for ceramic. If you like the glass tile, you will end up paying around $10 per square foot. The most expensive tile would be the stone one, and there you would end up paying about 25$ per square foot.
We are not counting the costs of installation. If you do not want to go the DIY route, tile installation is bound to cost $0.50- $15. You can go with the ever-popular vinyl flooring if you feel tile is too much for you.
Vinyl flooring has caught up the trend over the last few years. Installing vinyl sheets is also a good idea for your bathroom remodel, but now you also have the option of using luxury vinyl plank or tile flooring.
Your vinyl contractor might charge by the project or by the hour. The hourly rate is roughly $35. Installation of vinyl flooring costs anywhere from $3.00-10.00 per square foot.
Go with the standard sheet, and you end up paying about $0.50 – 2 per square foot. Luxury vinyl adds significantly to your bathroom remodel costs and it can be anywhere between $2.5 to $5 per square foot. There is no difference in cost between a tile and a plank.
5. The Importance of Bathroom Lighting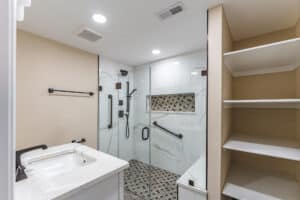 Lighting plays a critical role in any bathroom. Choose the wrong fixture (or a faulty bulb), and you'll look bad. If the right fixture goes into the wrong spot, you would be bathing in the dark. Maximize natural light to save on your remodeling costs. Similarly, if you change the floor plan or add the bathroom, consider installing new windows to amplify the natural light.
Lighting fixtures would be based on whether you opt for high-end or basic. When you do a full bathroom renovation, you'll likely revamp the lighting and the ventilation as well—a bathroom fan installation costs between $230-$550. Fans range from $15-$300. Try installing various fixtures like vanity lighting, mirror lighting, recessed lights, etc to keep things interesting.
Understanding Bathroom Remodel Costs
A bathroom remodel can be both time and energy consuming apart from the fact the costs might differ depending on your fixtures, bathroom layout, and size too. Therefore, it is better to plan before going all in and understand the bathroom remodel costs beforehand.
Features That May Affect Bathroom Remodel Costs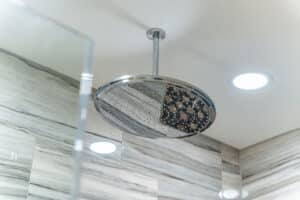 When planning your remodel project, it is crucial to consider factors that can impact the overall bathroom remodel cost. Here are some common features one may consider:
Bathtubs:

The size and style of the tub will impact the overall price. For instance, installing a freestanding tub may incur additional plumbing costs.

Cabinets and vanities:

Prices vary, with stock vanity units being the most economical. Size, top style, cabinetry, and material used will impact the overall. Custom cabinets are ideas for luxury master bathrooms.

Countertops:

Materials play a significant role in bathroom remodeling costs. Although stone is durable and impacts home value directly, it certainly costs more than other options. Prefabricated countertops work in many spaces and help to keep costs in check. 

Faucet:

Prices vary depending on manufacturer, material, and style. 

Sink:

Pedestal sinks, drop-in sinks, and designer styles all differ in cost. Similarly, drop-in sinks are a cost-effective option in an array of styles. 

Toilet:

Replacing an old toilet is simple and affordable. Basic and luxury models definitely vary in price, but installation charges are usually lower. 

Wall and floor tile:

Porcelain, ceramic, and natural stone are popular picks for floor tile in bathrooms. Materials are the main deciding factor here, but natural stone usually costs more to install because it is difficult to cut and place. From natural stone and classic ceramic to glass and engineered stone, wall tile options vary. 
Other Features:
Grab Bars

Lighting

Paint/Wallpaper

Mirror

Towel Bars

Hardware

Steam Unit

Walk-in Tubs
Additional Considerations
Geography
Where you live may impact bathroom remodeling costs, Difficult tasks like installing a large soaking tub on the second floor may also mean higher labor charged when compared to the ground floor because of the difficulty of the work.
Permits
Major bathroom remodeling projects or complete overhauls may require permits, depending on where you live. Nevertheless, these permits are inexpensive, they can add to your overall bathroom remodeling costs. 
Addition, Disposal, Or Replacement of Materials
Removing old flooring, adding a new tub, or replacing shower tile are just a few examples of how you may incur additional costs. These costs are usually built into your labor costs when you receive a quote.
Water Damage Repairs
Water damage is inevitable in bathrooms. Your contractor may outline or include this as a part of the job, depending on the extent of the damage.