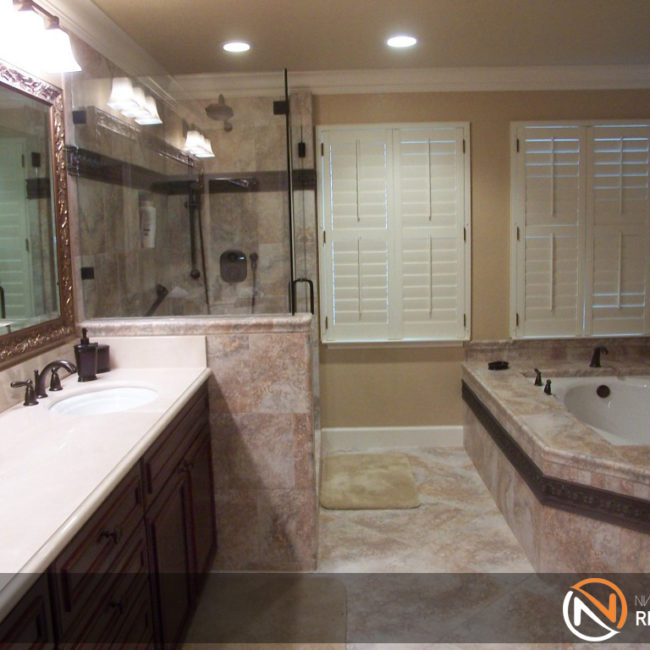 Are you looking to find how to remodel a bathroom on a budget? Check this easy guide to help you before you start. Easy-to-do guide for your next bathroom remodeling project:
No matter what kind of design you want to bring out or the kind of budget you have, NV Kitchen and Bath have the experts, assorted styles, finishes to ensure the client gets what they require. The company has A class license, insured and employs highly experienced designers, managers, and office staff.
Bathroom remodelling can be a costly affair, but with a few modifications and re using of the already available materials will make your bathroom beautiful without breaking a leg. Its paramount to have a budget of what you require. A low budget bathroom remodelling will require a lot of creativity as it requires one to use what is available.
Below are some ideas on how to do a bathroom remodelling cost-effectively;
One of the most cost-effective ways of remodelling is taking the tiles above the ground. You can choose to tile the whole wall or half of the wall. Add mosaic tiles to the wall tiles to create a beautiful pattern make it look more beautiful or choose the tile that gives the floor a wooden look; most porcelain tiles have a wooden look. Ensure the tiles are well-laid tiles in straight clear lines. You can also use colored tiles to create a pattern. If a tile is laid vertically instead of the usual horizontal a design can be created. Consider the color of the grout to be used; white tiles work well with white grout. In case you have broken tiles, use them to create a design.
Renew the look of the bathroom cabinets with a new fresh coat of paint. If the cabinet are stained, sand it and then apply a new stain color. Add a little twist to the color by making sure the wall and cabinet color complement each other. Consider the color of the tile to avoid a color crash.
Change the accessories and hardware
Replace the bathroom top and replace it with a granite or laminate, neutral granite tops colors are less expensive, and that could be a good option. Replace the toilet seat with a new one, change the showers controls and install new faucets. Add nicely patterned fabric or a glass that is budget friendly. Add the not so expensive towel bars and ensure color cohesion. Add a chandelier that's not costly to give the bathroom a more romantic feel. Instead of replacing the mirror get decorative moulding and add to the mirror to create a high-end look.
Replacing the light fixtures in the bathroom can bring the much-needed difference. Fixtures with layers or glass one bring a sparkle and change the mood of the bathroom. Light colors will make the room feel warmer than dull colors.
Add more stylish storage by adding decorated baskets, add shelf declutters to be able to store more and add a cloth to the bathroom vanity to make it more appealing. Open up the upper shelves to be able to store more. You can add a small but a floating vanity to give the bathroom a more elegant look
Redoing the irreplaceable
Replacing some items like showers and bathtubs may prove to be expensive, and instead you can have them them relined and refinished afresh. This will give them a new appeal with minimal cost. You may need to buy some tools for the refurbishment like sand paper, face mask and the likes but the cost is minimal.
To achieve a perfect bathroom remodelling ensure that you keep it simple but classy. Avoid clustering or using too many colors as they will cause the bathroom to lose the appeal.