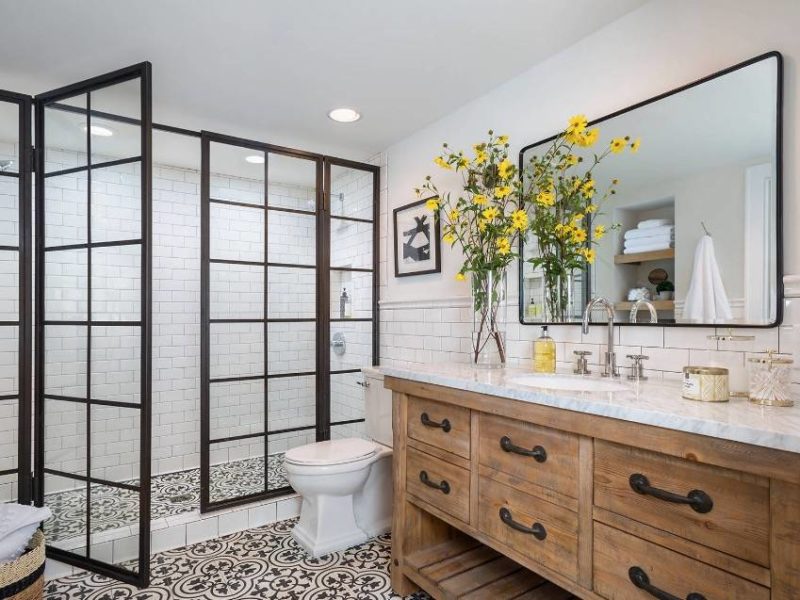 Remodeling your bathroom? Or thinking about it? Then consider reading a comprehensive bathroom remodel guide before you start. 
Once you start, you'd know that it isn't as easy as it looks. Remodeling any room in your home comes with its own set of challenges, but the bathroom is one of the more complex ones.
It's okay to feel overwhelmed before you begin remodeling your bathroom. That being said, with the right information at your disposal, you can sail through the process with ease.
To help smoothen things out, this bathroom remodel guide will help you navigate the complex world of bathroom remodeling.
How to Plan a Bathroom Remodel
1. Understand Your Needs
Before you move forward with the remodeling process, you need to understand your needs. A successful bathroom remodeling process is a combination of functionality and design.
The first stage of the planning process is to ask yourself the reason(s) behind the decision to remodel your bathroom. You could be facing some plumbing issues, chipped tiling, or just in the mood for an updated bathroom.
Once you have noted down these requirements, it is time for you to make some decisions.
Related: How to Create a Balance of Colors and Textures in the Bathroom
2. Hire a Contractor
Even the handiest of homeowners shy away from working on the bathroom and rightfully so. Your bathroom is more complicated than you may realize. A single wall in your bathroom can hold complex plumbing and electrical work.
Hence, you do not want to be messing around such a labyrinth. This is where you need to hire a contractor. A contractor is a professional who can tackle your bathroom remodel with ease. In most cases, you will be hiring a general contractor or remodeling agency. It is this general contractor or a remodeling agency that works with subcontractors such as plumbers and electricians.
But how do you choose a contractor? To begin with, you should work with a licensed contractor only. You might be tempted to work with an unlicensed contractor as they offer a lower bid, but that might end up costing you a lot in the long run. A licensed contractor works with efficiency, reliability, and adheres to local laws as well as regulations. This basic requirement aside, you have to analyze potential contractors based on the following questions:
● How long have they been in business?
● How many projects have they completed in the past 18 months?
● Have they worked on a remodeling project of similar scope and scale recently?
● How long will the remodeling process take?
● Do they provide a warranty?
The main agenda behind asking these questions is to determine their reliability and compatibility with you as a homeowner. Once you've passed the negotiation phase, you have to make sure to get every detail in writing as a contract before the work begins. 
Cost of a Bathroom Remodel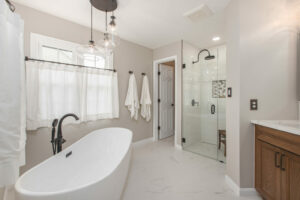 The average cost of remodeling a bathroom is $20,000. However, this 'average' might not be your cost to remodel the bathroom. There are various elements that go into deciding the cost. For instance, the scope of the remodel can drastically change the cost.
If you are having a minor remodel, it can cost you somewhere between $5,000 to $10,000, whereas a major upscale remodel goes anywhere beyond $35,000. 
Not just scope, but the size of the bathroom determines the cost as well. For instance, remodeling a master bathroom can cost you anywhere between $15,000 to $25,000. At the same time, a powder room or a guest bathroom will cost you somewhere around $5,000 to $8,000.
A massive aspect of understanding the cost of a bathroom remodel is to factor in sweat equity as well. While you may not be able to tackle big tasks like plumbing or electrical work, there are some tasks that can be done with ease.
For instance, light demolition work or hardware installation can help you save some money in labor costs, which constitute 20% of the total cost of a bathroom remodel.
Budgeting a Bathroom Remodel
It's an innate understanding that if you want to embark on a remodeling project, you have to have resources to pay for it. However, you also have to figure out how much you can pay for it. This is called 'budgeting.'
That being said, budgeting for a bathroom remodel is more than simply figuring out how much you can afford to pay. There are several components that go into the budgeting process. Let's have a look at some of them.
1. Prioritize Your Needs
Every homeowner has to work with a limited budget. Regardless of how much they can spend, they will hit a limit someday. Hence, you have to prioritize while setting your budget. 
While noting down tasks that need to be done and what each of them might cost, you have to tackle significant issues first and then work your way down. You don't want to set money aside for a golden trim for your vanity and not have enough left over to fix a plumbing issue.
2. Set Money for Emergencies
Remodeling your bathroom is a complex process. Even if you go in well prepared, you are likely to come across one problem or another as it begins. What can you do in such cases? Do you scramble for money? Do you delay the remodeling until you've arranged for some extra cash? 
No. Instead, you reach into your emergency fund. One important aspect of budgeting for a bathroom remodel is to have an emergency fund. This fund should have at least 15 to 20 percent of your total budget.
Not only does it help you tackle complicated and unforeseen circumstances, but it also gives you the mental assurance that you have the necessary funds if you need them somewhere down the time.
1. Choose a Theme
One of the core aspects of a bathroom remodel is to select a theme. Themes like modern, minimal, traditional, etc. are some of the popular bathroom design themes out there.
These themes help you determine the layout, fixtures, overall style, and other functionalities of the bathroom. Hence, you should take your time figuring out what works best for you. While choosing the theme for your bathroom, you also have to take its functionality into consideration.
For instance, a minimalistic bathroom design focuses on 'less is more.' This might not be the best idea if you have three kids or want plenty of storage for your bathroom. 
2. Consider Storage as a Key Function
Speaking of storage, it is one of the most important aspects of a bathroom remodel. Whether you are remodeling a master bathroom or a powder room, you have to think about the storage options. 
From cabinets, recessed cubbies and open shelving, storage options are endless. It is up to you to figure out which ones work for you and which ones don't. Consider storage as a critical function and not as an afterthought while remodeling your bathroom.

3. Add Ample Lighting
For a space as small as the bathroom, the importance of lighting is definitely magnified. Instead of one focal light fixture, you should switch things up. Natural lighting aside, consider adding at least two to three different sources of light in your bathroom.
For instance, mirror lighting, vanity lighting, recessed lighting, etc. are some of the options that you can choose from for your bathroom.

4. Choose the Right Colors
Regardless of your theme, light colors are the best choice for a bathroom (in most cases). Your bathroom is most often among the smaller rooms in your home. Believe it or not, the color that you choose can make it seem smaller than it is and vice versa.
Colors like white, beige, pastel colors are excellent choices for your bathroom. That being said, dark colors aren't bad at all. If you do end up choosing dark colors for your bathroom, you have to pay extra attention to the lighting and design to make sure that the bathroom space looks open and bright.

In Conclusion
Remodeling your bathroom is an exciting yet complicated undertaking. This bathroom remodel guide is written to help you navigate the world of remodeling with ease. When it comes to remodeling, every small piece of information helps. Through this bathroom remodel guide, we hope you are more informed about the process and can make better decisions to achieve the bathroom of your dreams.