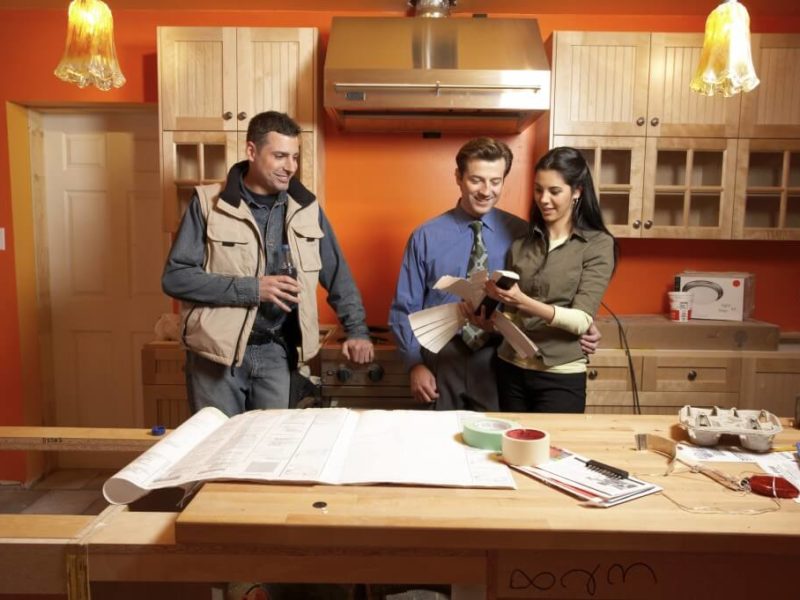 So, you've decided to remodel your home. Before you start dreaming about relaxing in your newly remodeled home, you're going to have to jump through a few hoops. One such hoop is selecting a contractor.
Choosing the contractor is perhaps the most important decision you'll make (yes, more important than that granite countertop). How to choose the right remodeling contractor, is another story in itself. In order to make it easier for you, we've compiled some parameters that can help you make the right decision.
How to Choose a Remodeling Contractor
1. Understand Your Needs
As a homeowner, remodeling can be quite an exciting undertaking. That being said, it can be exhausting as well. In order to know how to choose the right remodeling contractor, the first step is to figure out what you want out of this project.
Do you want to remodel your entire home? Or you just want to do a specific section such as the kitchen or the bathroom? Is it going to be a minor remodel or a full-scale home remodel?
Once you've got that figured out, you can approach contractors with your vision. This is considerably important. If you don't know what you want, a contractor can't help you the way they're supposed to.
However, it is also a good way to judge a contractor. If they don't support your vision or can't execute it the way you want, you'll know that they aren't the right fit.
2. Look for Referrals
There's only so much you can find out based on one or two meetings with the contractor. Word-of-mouth referrals are the best way to get to know a contractor. Even better if they come from someone you know.
You can start by asking your friends and family. Ask them about contractors that they've worked with before and how was the remodeling process with them. It's easier to do this as you will get an honest review of the professional.
For instance, a contractor isn't going to tell you about a job gone bad or a delay. However, a family or friend can help you gain insight into how a particular contractor dealt with a crisis.
3. Examine the Credentials
Trust us when we say this, you need to work with a licensed contractor. Now, this may seem like common sense but you'll be surprised to know that roughly 31% of homeowners work with unlicensed contractors.
You should do your research before you choose the right remodeling contractor. This includes a visit or multiple visits to their office. After this, you need to look at their licenses.
The reason to do so is to understand whether they have the required licenses based on local, state, and national laws. You can also have a look at any certifications from recognized institutions.
Another aspect that you cannot forget about is insurance. Does their insurance save you from any potential liability or not.
After you've gone through these documents and credentials, you can move on to the next steps.
4. Approach Multiple Contractors
If you are figuring out how to choose the right remodeling contractor, you cannot stop at the first one. The right way to do this is to approach many contractors.
Now, you might love the first bid, the first contractor and everything seems to check out. However, you never know what's in store out there. One of the main reasons as to why you should look at different bids is to get an estimate.
Once you start comparing different bids, you'll get an idea about the average market rate. Remember that first bid that seemed perfect? Yeah, turns out the guy was ripping you off.
Similarly, it helps you compare different services offered by different contractors and helps you understand the one that works best for you.
5. Understand the Bids
You may be looking at the final bid amount and judging solely off of that. However, that's not enough, You will receive bids once you've told the contractors about your plan and your budget too in order to receive a quote.
A good contractor will be able to send across a bid with a cost breakdown. It should include labor, material, and other additional expenses. If the ratio or the cost breakdown seems off, you know that you should run in the opposite direction.
6. Enquire About Staffing
Labor is a huge deciding factor when it comes to deciding the right contractor. Throughout the house, you will require specialized workers for certain tasks. There's lighting, plumbing, structural work and so much more.
Thus, you need to ask the contractor about the credentials of his staff. Especially those who will be dealing with technical work. The contractor should be working with specialists or subcontractors. These people should be licensed professionals and not just another staff member.
For instance, any lighting work should be carried out by a licensed electrician and nobody else. Similarly, enquire about the presence of an onsite foreman who is to supervise the project and work as your point of communication for questions or issues.
The Next Steps
It's s not just about choosing a remodeling contractor. It is also about what should be done once you have decided. Once you decide to hire a contractor, you should get all your agreed-upon terms in writing.
A contract is crucial to safeguard the interests of both parties involved. Once you have a contract in your hand, don't be in a hurry to sign it. You should be examining the contract as well as have it examined by a third-party. Any small detail that you feel is not right or needs further clarification, should be addressed before you sign on the dotted lines.