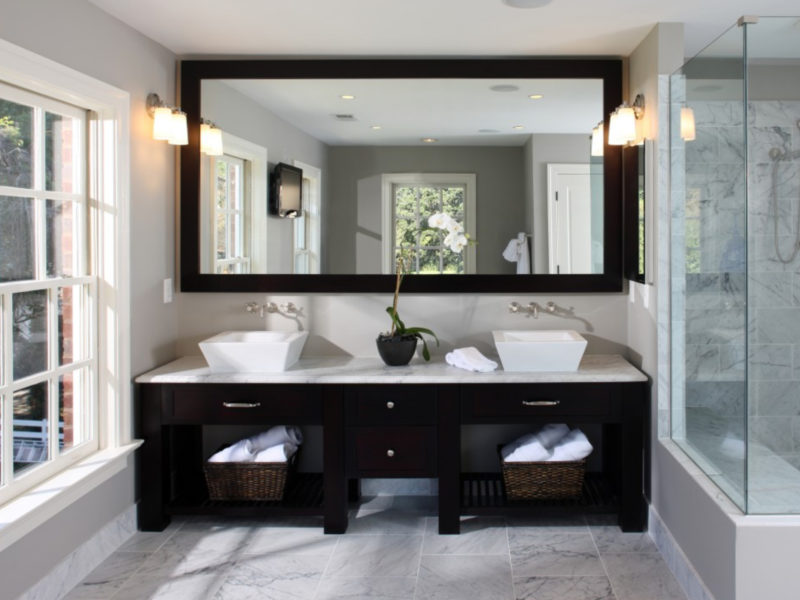 Are you designing the bathroom for our forever home? Or are you thinking about putting your home on the market? Regardless, bathroom remodels pay off big time. Did you know that out of all the rooms in your home, it is the bathroom that has the highest ROI if you decide to remodel it?
That being said, it's often tricky to execute a bathroom remodel. To help you get started, we've compiled some successful before and after bathroom remodel projects for you to gain inspiration from.
Successful Before and After Bathroom Remodel Projects
1. An Elegant Makeover
This project is the perfect example of how you can take an old and dull bathroom and convert it into something elegant. The owners decided to replace the unfortunate wallpaper and tile combo with a classic white subway tile.
The sink was replaced by a bathroom vanity to add functionality and storage. Likewise, a recessed shower cubby is a great way to store bath essentials without compromising on space.
Key Takeaway: If you are remodeling your bathroom, consider sticking to white or light colors. Not only do they make the bathroom feel bigger but the also give it an elegant touch. If you can, try hiding the toilet from plain sight, just like it was done here. A partition was added to make sure that the toilet isn't the first thing you notice when you enter the bathroom.
2. Bathtub: Yay or Nay?
While there was nothing wrong with the bathroom earlier, there was nothing right with it either.  The homeowners transformed a basic shell of a bathroom to something that's functional and beautiful.
When you're working with a small bathroom like this one, it's important to consider light and space. They replaced dull lighting with bright ones. The small black tiles were replaced with block grey ones and the bulky bathtub was replaced with a spacious shower cubicle.
Key Takeaway: One of the key decisions that you might have to make is about your bathtub. Personal preference aside, you may want to think about the practicality of having a bathtub in your bathroom. Shower space is not only more practical in terms of daily use but it also opens up the bathroom space.
If you are someone who doesn't use their bathtub regularly, a bathroom remodel is the perfect opportunity for you to replace it with a functional shower space.
3. A New Vanity
Not all bathroom remodels are focused on gutting the entire bathroom and designing a new one. Some remodels are about changing a thing or two. Let's take this before and after bathroom remodel project, for example. The old, dated, and cluttered vanity was replaced by a beautiful blue double-vanity.
Key Takeaway: Your bathroom vanity is the focal point of the space. Not only is it important for storage but it also sets the tone for the rest of the space.
While selecting the vanity, you have to consider several factors. You have to think about the size of your bathroom along with the number of people using the same vanity.
For instance, the homeowners moved from a single-vanity to a double-vanity. Similarly, the vertical cabinets were replaced with different drawers and cabinets, essentially multiplying the storage capabilities.
4. Think Beyond Utility
If you look at the two photos, you can't even imagine that they are the same space. The remodel took what was an old bathroom in need of structural and design repairs to a mini-sanctuary.
The compartmentalized layout was replaced with an open one. A soaking tub and a spacious shower space lined with grey tile along with a long double-vanity is the ultimate indoor retreat.
Key Takeaway: You don't always have to think of your bathroom as a utility. A bathroom remodel can transform it into so much more. Right from major fixtures to the layout of the bathroom, every aspect plays an important role in deciding the vibe of the bathroom.
If you add elements that speak comfort for you, such as a soaking tub or a favorite picture, all of these contribute to making the bathroom space comforting.
5. Let the Light Shine!
This remodel is does a great job of being memorable. The basement bathroom was far from welcoming. Old tiles, dated fixtures and inadequate lighting made the bathroom highly unwelcoming.
The remodel is a different story altogether. A modern layout, new fixtures, a fresh coat of paint and sufficient lighting is the perfect recipe for a successful remodel.
Key Takeaway: When you're remodeling a bathroom, don't forget about the importance of lighting. If you look at the 'after' photo here, you can't even tell that it's a basement bathroom.
Design choices aside, the key here is to ensure that a bathroom has sufficient lighting to it. You can only use natural light to an extent. This is why additional lighting fixtures, like mirror lights and focal lights, are crucial in spaces like a bathroom.
In Conclusion
Remodeling your bathroom is a tricky yet rewarding process. Let's face it, no one is an expert remodeler. That is why we need to seek inspiration and learn from those who've succeeded in the past.
You can use these successful before and after bathroom remodel projects as a base to draw inspiration from. In the end, you have to make choices that work best for your personal requirements and seek expert advice for your bathroom remodel.