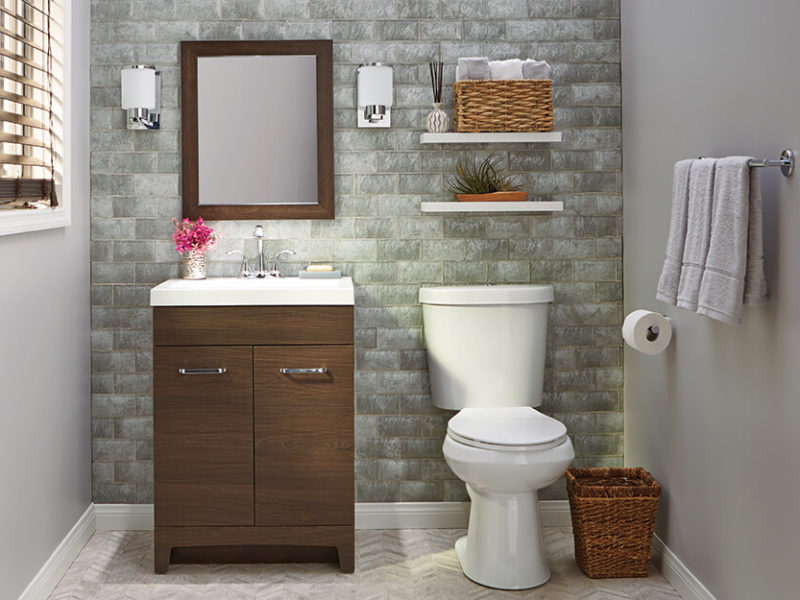 Pulling your hair out while looking for tiny bathroom ideas? So is half of the world!
A bathroom remodel can make a big difference in the feel of your home. But that being said, it isn't always easy designing a tiny bathroom. It's because small bathrooms with their limited square footage and cramped spaces are a design challenge. In any case, you aren't alone in this. Thousands of people in the world right this moment are struggling with the same issue. But since there are many people with this problem, there are many who have come up with unique solutions.
But let's offer you a fresh perspective here. Regardless of the size of your bathroom remodel, isn't the goal to make it more uncluttered, stylish, and spacious anyway? That should suggest that such problems exist to some degree even in master bathrooms. However, tiny bathroom remodeling ideas focus on even smarter ways to solve the issue.
What Can You Do About the Design of Your Tiny Bathroom?
There are plenty of smart hacks that you can pick to make your tiny bathroom suave. These ideas are easy to execute, affordable, and also friendly to use in most bathrooms.
We know that you must have explored enough ideas on the subject already. However, we couldn't resist sharing a few extra tips to help you make the best of your available space. They go on to prove that what works in a bigger bathroom applies to smaller spaces as well.
1.  Opt for a Mix of Light and Dark Colors
As a rule, more light = larger the appearance of the space. You ideally want to create a balance between surfaces that reflect light and dark colors.
To do this, opt for wooden flooring that pairs charmingly with an all-wood vanity. You can also opt for something that looks like wood (like laminate). Next, paint the bathroom walls with a soft mint-green that will reflect the natural light. This will help to brighten up the entire space.
Also, make sure to add a freestanding tub to the picture. It will leave plenty of space around itself, and in turn make the room look bigger. Thin fabric curtains will allow the light to stream through — filling the room with light.

2.  Cover a Wall with Mirror
This can be the ultimate showstopper of your bathroom.
Besides, the idea does away with the need to hang a mirror over the vanity. Moreover, the mirrored wall will reflect light and space giving the illusion of spaciousness.
3.  Add a Glass Shower Door
Swap the curtain with a glass shower door. The idea works well in a tiny bathroom as it opens up the space.
Another option is to do away with the partition completely — provided you have a good drain to support the trend.
4.  Add Hexagonal Tiles
Hexagonal tiles add visual interest to your bathroom with their unique pattern.
It's a good idea to have the same shape in several areas of your home, including the porch and the kitchen. The concept leads to a subtle link that's pleasing to the eye.

5.  Add Wall- Mounted Taps
The concept of wall-mounted mixer taps is ideal for a bathroom with compact space.
It does away with the need for a basin pedestal to conceal the pipework. On the other hand, you may use the freed-up space for desired storage.
6.  Paint Half the Wall to Create Illusion of Height
This is one of the smartest tricks in the book to create an illusion of height. Herein, you paint half of the lower wall with a dark shade.  What happens is that your vision settles on the deeper lower half creating a distance from the upper portion of the wall.
Whereas, if the entire wall was painted the same shade, your room wouldn't have the needed depth.
7.  Cover up Your Cloakroom with Wallpaper
Create interest in your small space by covering the walls with striking wallpaper.
For a space other than a cloakroom containing a bath and a shower, opt for water-proof wallpaper.

8.  Cheat Your Eyes with Tiles
There is a difference between the actual space and what you see.
You may make use of this optical trick by using the same tile design on the sides of your bath and the wall. What happens here is that when you enter the bathroom, it makes it difficult to make out where each part begins. As a result, it makes your space feel larger.
9.   Think of Tall Storage
Nothing can beat the impact of tall storage in small spaces.
Use freestanding tall storage pieces to flaunt your lotions and wash bags. This will also make them easy to grab. They take up less room and add a statement to your bathroom too.
10. Tile your Floor and Walls Alike
Another smart trick to create the illusion of space in your small bathroom is to use the same tiles on the floor and the walls.
If you're looking for a seamless look, try wall panels or tiles in large-scale sizes.
11. Push Your Curtain Up
If you can play around with the positioning of the curtain, take the curtain right up to the ceiling. It's definitely going to play up with the senses.
It's because pushing your curtain up elongates the walls. Of course, it helps to have a tall ceiling in your bathroom for this particular design trick.
12. Avoid Overcrowding the Floor Space
The more crowded the floor space in your bathroom, the more you're likely to end up with cramped space. Not to mention the regular tripping hazards that may happen. So, what's the solution?
Install a floating or a pedestal sink to keep your floor nice and clear. Other than this, the floating storage will also help you to keep all your essentials at arm's length.
13. Create Storage
Small bathrooms benefit the most from maximum storage. Having said that, your bathroom serves several functions right from your morning makeup routine to the night shower. In other words, you need a few creative small-space storage hacks to make your life a breeze.
Pick up the bar cart from your living room and use it for a roll-away bathroom cart.  Or if there's enough space, pick up a nook to station it in the bathroom permanently. You can even pick up a few fancy baskets and mount them on the wall for storage (shelving style). Keep your hair tools nice and organized by using adhesive hooks on the inside of your cabinet doors.
Other than these DIY hacks, a wall-mounted rack with individual open cubbies will store all your towels and essentials. It's a good idea to roll the larger towels to fit them easily in the small slots. A hanging organizer in your main bathroom area works well to store sundry items. Opt for a wire organizer with multiple storage options like a basket or a shelf. Make sure to hang it in a handy spot.

14. Opt for a Corner Sink
If you are rebuilding your bathroom from scratch, consider repositioning the sink. I mean, there's no rule that says you can't do without a full-size standard sink. A corner sink is good enough and gets the job done as well as any other sink. Besides, since it uses up a particular unused corner, it leaves plenty of space in the room.
In Summary
Bathrooms are spaces with a lot of functions. The only way to get the most out of your limited space is to be creative with what you've got. With the right design ideas, you can transform your tiny space to a spacious and an élan den that may turn out to be your next favorite room!