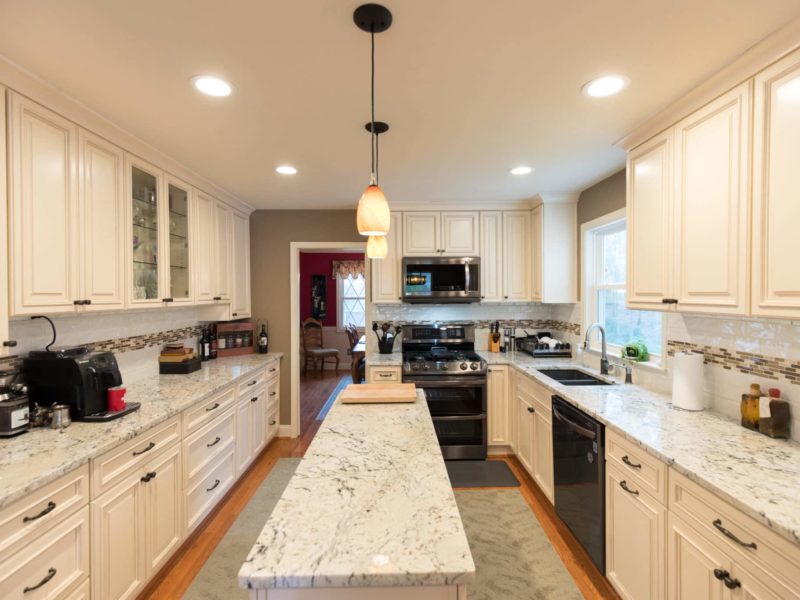 Among other things, the kitchen is one of the most used places in the house, and therefore it is crucial to keep it updated. A beautiful and well-equipped kitchen will make the person want to cook without making it seem like a task. Additionally, renovating parts of the house, especially the kitchen, can help raise the real estate market's home value.  Understanding kitchen remodel costs is quite complicated as everyone has a different budget and set of priorities, and you cannot compare it to another. They are all custom-made for the homeowner and curated as per their liking.
What constitutes an ideal kitchen is a subjective matter, and everyone has their tastes and preferences. If you are arranging for a kitchen renovation project, there is a lot to think about. Generally, homeowners feel mystified by the cost of the kitchen remodel and make some common kitchen remodel mistakes. Since each project is also unique, it is hard to get the exact price beforehand. Thus, to give you a more explicit picture of the home improvement project, let us break it down into sections.
Understanding Kitchen Remodel Costs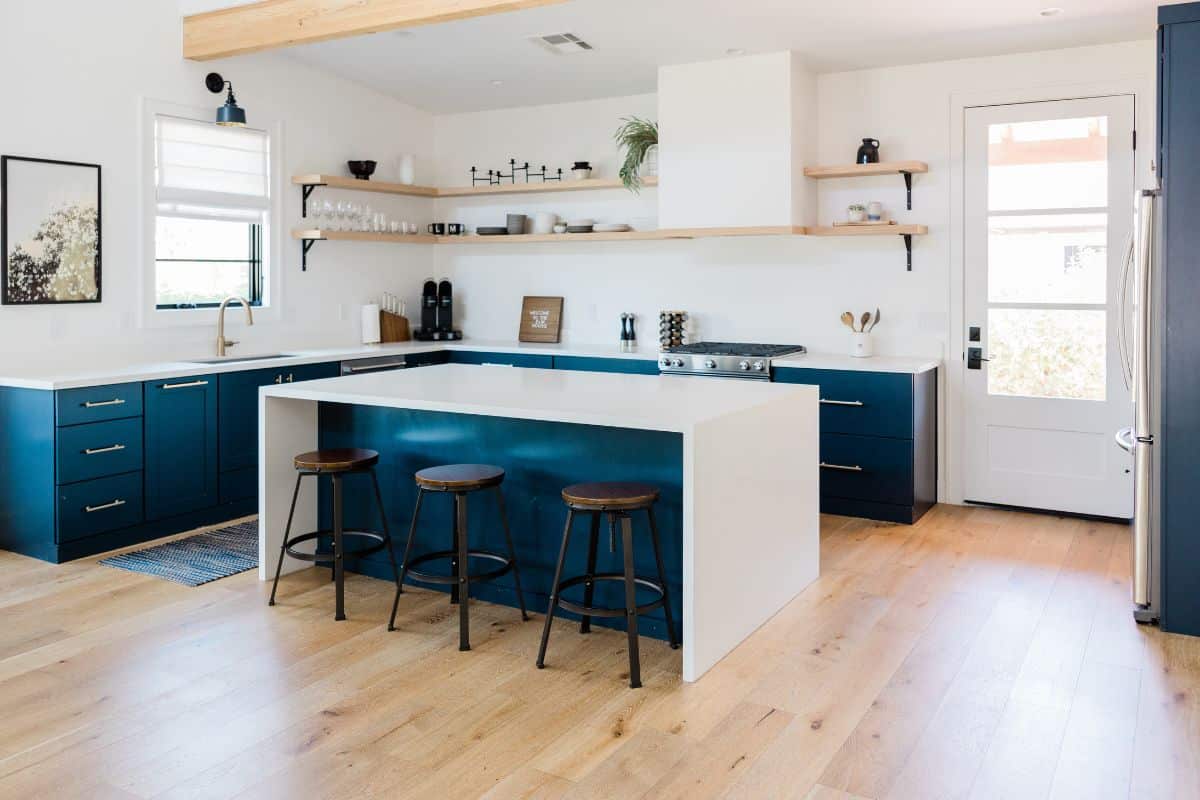 The average kitchen remodel costs differ based on design, layout, size, finish quality, etc., and keeps changing dramatically from one kitchen to another. For a general overview, we compared to costs listed on the most reputable sites on the internet. Here is what we found.
Source: Home Advisor
Average Kitchen Remodel Cost: $13,000 – $37000
Average Cost per Square Foot: $75 – $250
Low and High End Remodel Range: $4000 – $ 60,000
Source: Remodeling Magazine
Average Kitchen Remodel Cost: $23,500 – $68,500
Average Cost per Square Foot: $120 – $350
Low and High End Remodel Range: $23,500 – $135,500
Source: Home Guide
Average Kitchen Remodel Cost: $13,000 – $21,000
Average Cost per Square Foot: $100 – $250
Low and High End Remodel Range: $1200 – $126,000
 From minor to upscale remodels, there are a lot of things you can do with your kitchen. Each of them has a different budget, and the kitchen changes are as per the set budget. Here we will also tell you about the kitchen remodels by scale, and the average cost of a kitchen remodel.
1.  Minor Kitchen Remodel ($10,000 – $15,000)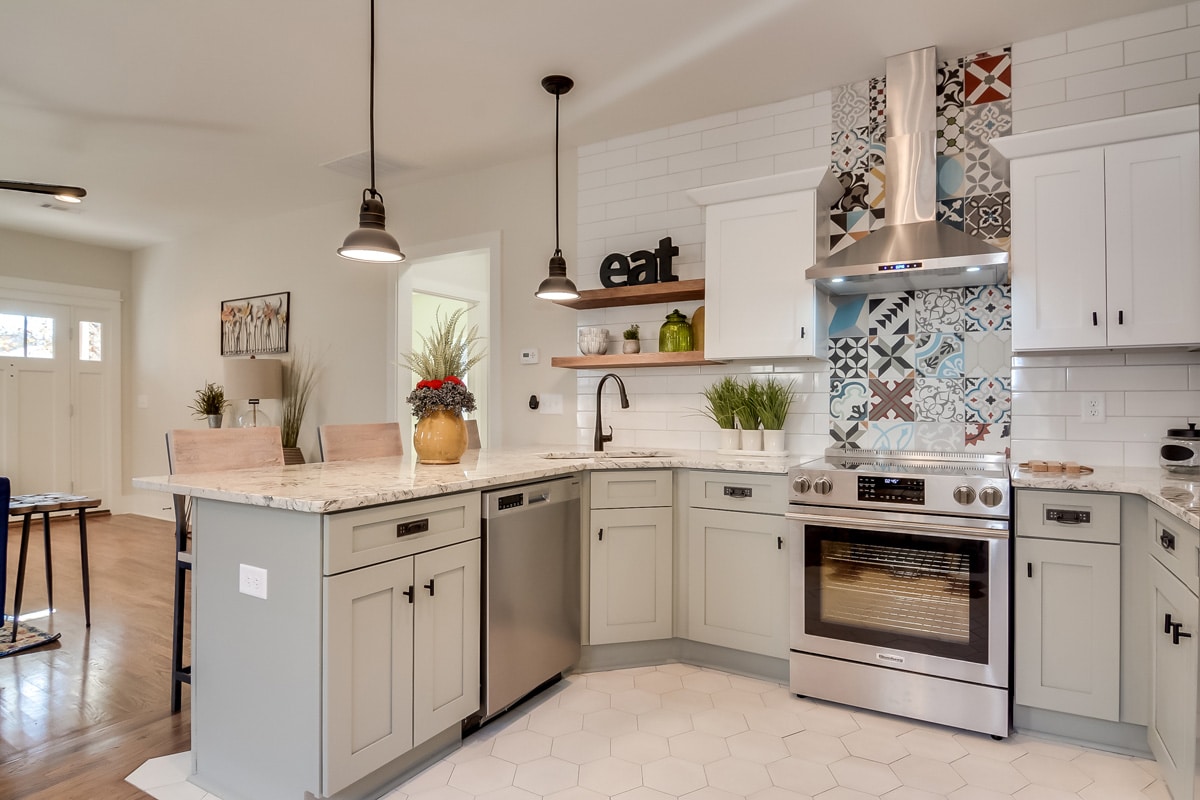 Minor kitchen remodel costs are low budget, pocket-friendly, minute changes in your kitchen's layout that increase your home's marketability and give your kitchen a new shine.
A minor kitchen remodel mainly focuses on the most outdated things in the kitchen, their replacement with budget-friendly alternatives, and a little touch up here and there. Many things that can be done as DIY to save up on the splurge. The main focus is on picking kitchen backsplash, hardware, painting and of course, choosing new appliances are always welcome!
Saving upon:
If you want to save up on some bucks, you can easily paint the walls and cabinets yourself for under $500. Instead of hiring a professional and shelling out $1000 more, put on some gloves and go DIY!
The most economical is the adhesive peel and stick tiles. Please do not go for quartz or ceramic as it will fall heavy on your pocket. You could instead try out the timeless white subway tile for a very cheap rate per square foot.
Installation of low countertops can cost you between $75 to $150  per square foot. They look elegant and are very useful too.
Splurging on:
Stainless steel appliances are the real eye-catcher, and you should spend on them. To make your kitchen seem modern and remodeled, spend your saved up money on stainless steel appliances from big retailers ranging from $1400 to $5000. On the other hand, this also increases your demand in the real estate sector, with the buyers willing to shell more money on homes with stainless steel appliances.
2.  Mid-Scale Kitchen Remodel ($15,000 – $30,000)
A mid-scale kitchen remodel costs a bit more than a minor remodel, but that also involves more superior and better materials, more labor, and better designs. The kitchen's size, small or big may also vary depending on the customer's demand, and he/she would get decent cabinets and more admirable quartz countertops and backsplashes.
Saving upon:
If you are going for a mid-ranged remodeling project, stick to the kitchen's layout to save up on plumbing, structural, and electrical work.
If your budget is somewhere in the mid-scale, it should involve upgraded kitchen cabinets. But instead of buying new ones and shelling out thousands, you could instead reface them with new doors, hardware, and fronts for an average cost of $4000 to $9000.
The hardware gives a new and improved look to the kitchen. There are different kinds of hardware at different prices, and you could save up on hundreds by choosing a more feasible and long-lasting one such as stainless steel for as little as $30 a piece!
Splurging on:
Depending on the size and the material of the kitchen island, the kitchen island costs can differ drastically. Since counter space is essential in a kitchen, kitchen islands have become very popular in kitchen remodeling projects. On average, a kitchen island costs $4000. The lowest islands with the bare minimum cost $400 and gradually can increase to $10,000 for the ultra-high-end ones.
Investing in countertops is worthwhile and necessary. For an upgraded look, invest in classy marble countertops or any solid color stone that resembles marble. You could also go for granite or quartz to cost you between $40 to $60 per square foot.
3.  Major Kitchen Remodel ($30,000 – $65,000)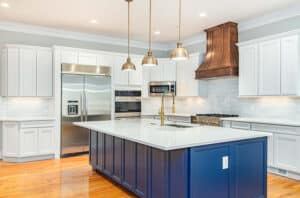 A central kitchen remodel gives an ultra-modern look and an edge to your kitchen over other competitive homes in the real estate market. It involves many more changes than the different kinds of remodels, and it is also hard to do DIY. That being said, the structural changes may involve top-class moving walls, under-cabinet lights for your kitchen, new electrical and plumbing, new cabinets, reconfiguring layouts, etc.
Saving upon:
 High and Low-End Finishes
You should also mix and merge luxurious materials with more affordable elements for an exquisite and dainty finish.
 Room Brightening Lighting
Add bright and luminous lights over the dinner table, the kitchen island, or under the cabinets for a budgeted price. Hidden LED tape lights are entirely feasible and have a very appealing look.
Splurge on:
Make your kitchen look futuristic and avant-garde by extending your kitchen flooring plan, and make it an open kitchen, including the dining area or the living room. Similarly, removing the wall is quite affordable as it does not support the roof above. It will cost you around $700.
Walk-in pantries are very chic and up-scaled, and according to the National Association of Home Builders' report, 83% of the buyers preferred a walk-in pantry in the kitchen. Likewise, the development of a pantry could cost you around $1000 – $2000.
If you are going to make everything about your kitchen so neoteric, you should also go for the most high-end appliances to keep up with the look, such as a stove matching the look.
Go for advanced sinks with stainless steel faucets and vegetable baskets next to the sink. A good plumbing and drainage system would be essential too.
For a tailored estimate of a remodeled kitchen, you also have to consider the location, size, kitchen scope, appliances to install, etc. Understanding kitchen remodel costs depends largely on all these crucial factors, and you need to account for them while planning your remodel.