Generally, when asked what homeowners will want in their dream kitchen, an island is the most popular response. Sometimes users use them for cooking casual meals, and other times for meal prep; everyone wants their island to be beautiful yet affordable. It's a showpiece not just for the kitchen but your home. Let's review the most practical kitchen island costs and materials that you should be aware of to calculate your total kitchen remodel costs.
Average Kitchen Island Costs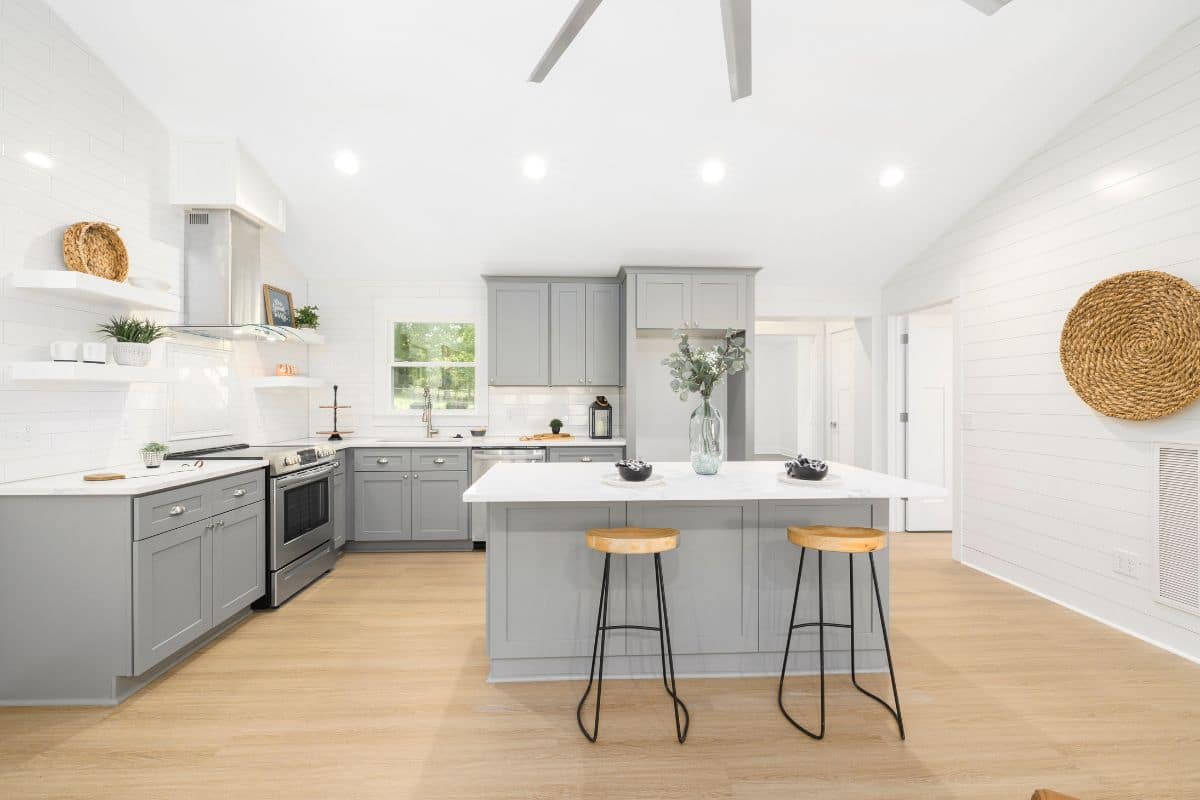 Further, kitchen islands aren't usually super expensive and often are a safe bet for higher resale value. On average, a kitchen island costs $4000. The lowest islands with the bare minimum cost $400 and gradually can increase to $10,000 for the ultra-high-end ones.
So even if kitchen islands aren't in your kitchen remodeling plan, it's never a bad idea to look into it while planning your kitchen remodel. Kitchen islands are functional and aesthetic, too. Let's look into various kitchen island costs and features that will keep your kitchen organized while looking luxurious.
Popular Kitchen Island Costs and Types
Repurposed Island: $10 – $100
Workbench Island: $200 – $300
Metal Rack Island: $60 – $300
Antique Island: $100 – $500
Round Kitchen Island: $250 – $2500
Painted Cabinets Island: $325 – $4000
Custom Kitchen Island
Furthermore, a custom kitchen island is gaining popularity too among kitchen remodeling projects. For a kitchen island that does more than look pretty or provides extra kitchen storage space and isn't prefabricated, hiring a professional carpenter is the best option.
But hiring a professional isn't cheap; a licensed contractor will charge $40 – $50 per hour. You can opt for a general contractor or a plumber and carpenter duo. Both ways, you'll be spending $400 – $500 per day for their exceptional service.
Also, the more features you add, the more money you have to pay. The higher-end islands that are tech-savvy with appliances, electricals, and sinks will cost you $10,000, while cheaper ones with fewer features will cost $3,000 and onwards.
Prefabricated Island
If you're tight on money, fret not! You can choose from several ready-made islands too while remodeling a kitchen. Prefabricated islands are pre-made, and all you have to do is choose the right style and size that matches your kitchen needs.
On average, the starting range of these islands is $200, and the ultra-chic ones can go up to $2,000. The final price will vary depending on the type, material, and functions you choose for your unique island. On the contrary, you should consider this DIY project only if you have legit remodeling experience.
Functional Features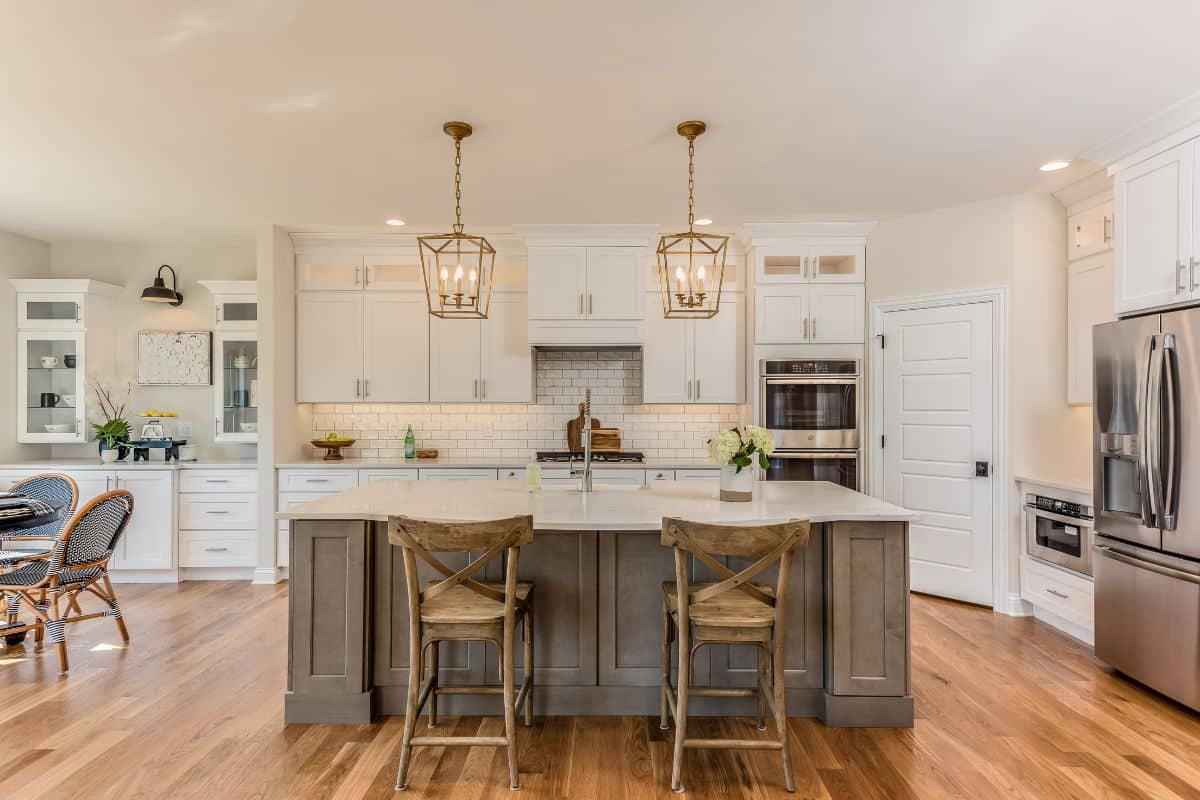 Let's talk more about the functional features that can easily hike your kitchen island costs during a kitchen remodel. Depending on the size, kitchen island style, and finish, be ready to pay more for primary features like the sink and dishwasher.
The sink alone will cost you $400 and more. The dishwasher, on the other hand, will cost $300 – $500. Apart from this, any appliances you wish to install will easily cost half a grand.
If that's not all, you cannot install these features on a ready-made island. Custom islands are your best bet to fulfill all your needs.
Moreover, consider the kitchen work triangle while installing these applications. The sink, refrigerator, and cooktop must be at arm's length from one another. Other features you can install are as follows —
Gas Stove: $470 – $3,490
Oven: $450 – $12,000
Microwave: $500 -$+ $14,500
Range Hood: $550 – $1650
Electric Stove: $700 – $1600
Kitchen Designer
Are you thinking of going the pre-fab route for your kitchen remodel? You may want to consider consulting a professional first. Similarly, you can also hire a remodeling contractor or a kitchen designer.
However, a kitchen designer will charge you on average $3500 – 17,500. You should hire a designer only if your island is worth going the extra mile.
A designer will help you navigate through the process of designing a kitchen island that fits your style. They will also help you find new ways to utilize your existing space smartly.
For a low to mid-range remodel, investing a good deal of money in a designer isn't advisable. You can invest in a better quality kitchen island, which is easy on the eye and functions beautifully.
Other Considerations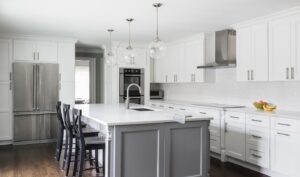 Other factors that will raise your kitchen island costs are plumbing, electricals, cabinets, range hood, and appliances. Custom-built islands will provide a space of pure functionality and practicality to your kitchen remodel for $3,000 – $5,000. While adding waterfall countertops, cabinetry, breakfast unit, bar, etc., will hike the cost to $10,000 and more.
Don't forget to install some electrical outlets for easy access. Don't take the risk of DIYing this part of the remodel, hire a professional for this task. Installing a switch and GFCI outlets will cost no more than $250. On top of that, the electrician will cost you $50 – $70 per hour.
Usually, hiring a general contractor with a team of subcontractors is the most beneficial. However, make sure each contractor has a license and the required skills. Discuss everything beforehand and get each detail in writing. Costs aside, delegate and ensure everyone is on the same page while building your design kitchen island.
Focus on the details. In any project, you must focus on the small things too. Pay attention to every nook for a seamless design. Like the placement of the electrical outlets and their functional needs are well in sync with one another. Aesthetic and strategic planning will determine the long-term value of your island.
Further, kitchen countertops are equally important too. It is the first thing your guests will see when they enter your kitchen. The countertop material you choose will increase the value of your home. Also, it will handle everyday wear and tear. Here are some average costs of kitchen countertops:
Quartz: $6,000 – $12,000
Granite: $4,000 – $9,000
Solid Surface: $3,500 – $7,000
Wood: 3,200 – $6,000
Concrete: $8,780 – 12,700
Marble: $4,500 – $10,500
Soapstone: $7,500 – $12,000
Laminate: $3,500 – $4,500
Ceramic: 3,000 – $5,000
Overall, there are several factors to consider before you jump into buying a new kitchen island. Our detailed guide above is all you need to calculate your kitchen island costs. Have you started dreaming of a new kitchen island just yet?