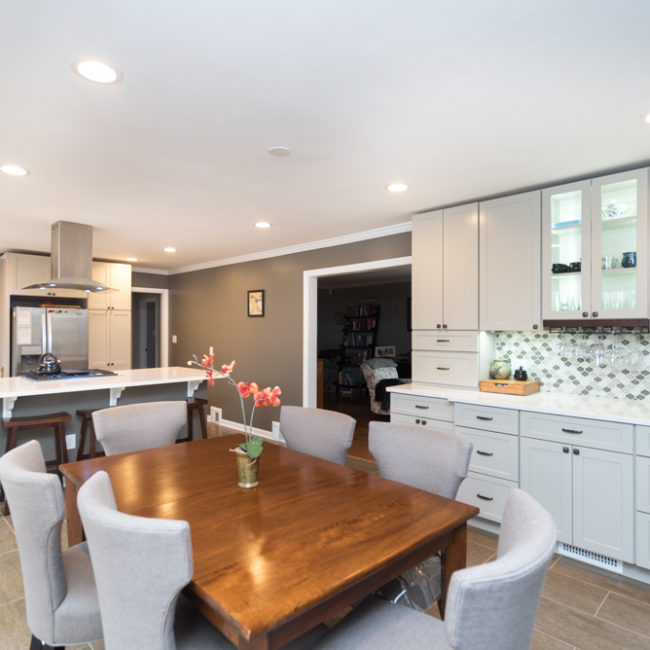 Popular Kitchen Layouts and Their Pros and Cons
Deciding on the kitchen layouts are usually the first order of business when you are remodeling your kitchen. The layout of the kitchen is integral to how you clean, cook, and even socialize. Several layouts are available, as you may have seen while perusing home renovation magazines. NV Kitchen and Bath is here to give you the low-down on the trending layouts, as well as their advantages and disadvantages.
Galley
A galley kitchen consists of a pass through in between parallel sections of cabinets. The main advantage of this layout is that it promotes space optimization and maximization, as well as efficiency. The appliances are kept on one side and are easily accessible. A galley kitchen can also be a closed or open plan, making it a versatile choice for most homeowners. They also tend to be smaller, reducing the cost of finishes on backsplashes, cabinets, and countertops. Cleaning is also easier because of the small size.
However, galley kitchens might be too small for some homeowners, especially if you are looking for maximum countertop space and cabinet storage.
U-Shaped
This layout is more popular in more traditional homes as well as small houses such as apartments. Its main advantage is that it opens up more storage space, especially if you have a small kitchen. This is because it uses only three walls, and the fourth wall is open for storage. In addition, the appliances are closer together in this layout making it more convenient for you to prep your food.
One major disadvantage of this layout is that it often feels crowded because of how close everything is. Cooking can become less functional in such a kitchen making the process difficult and time consuming. Cabinets and kitchen islands are out of the question due to the corners and space constraints.