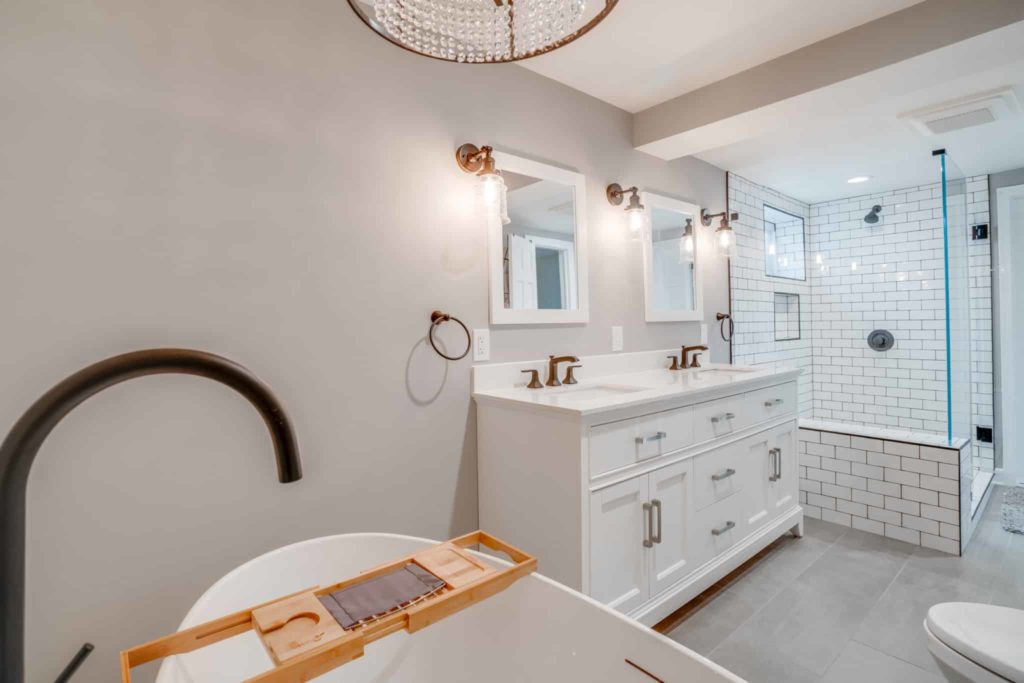 The 5×7 bathroom is a standard bathroom layout in many older homes. If your bathroom is one of them, and you're itching to sell your home shortly, you may be thinking about how you can remodel the bathroom to feel more functional, spacious, and attractive to buyers. While it's easy to hate the cramped nature of a 5×7 space, your bathroom's small size can be your advantage when it comes to small bathroom remodel costs. You can make beautiful updates without spending a fortune if you understand the bathroom remodel costs right.
Average Cost to Remodel a Small Bathroom
The average small bathroom remodel costs is around to be $6000. Of course, the price is indicative, and the actual cost can even go beyond $20000 if you opt for an upscale remodel.
The cost of remodeling the bathroom also depends on the scope of the work to be done. It can be a simple change of the bathtub or a shower, or you may be rearranging the entire space and moving the equipment. Your small bathroom remodel can also include the replacement of dated equipment. If you are going for all new equipment and pieces of hardware, expect to spend between $3,400 and $4,100 for a complete set of sanitary facilities like shower, bath, sink, and toilet.
Add to it an extra of about $100 to $150 to remove the older equipment and around $5 to $40 per square foot for painting the new ones. During your remodeling process, costs largely depend on the area. Therefore, having a cost estimate per footage is always helpful while planning a budget.
A small bathroom is generally around 40 square feet (5×7) in the area. A small bathroom remodel will cost between $150 to $500 per square foot by the above-stated numbers.
Flooring Costs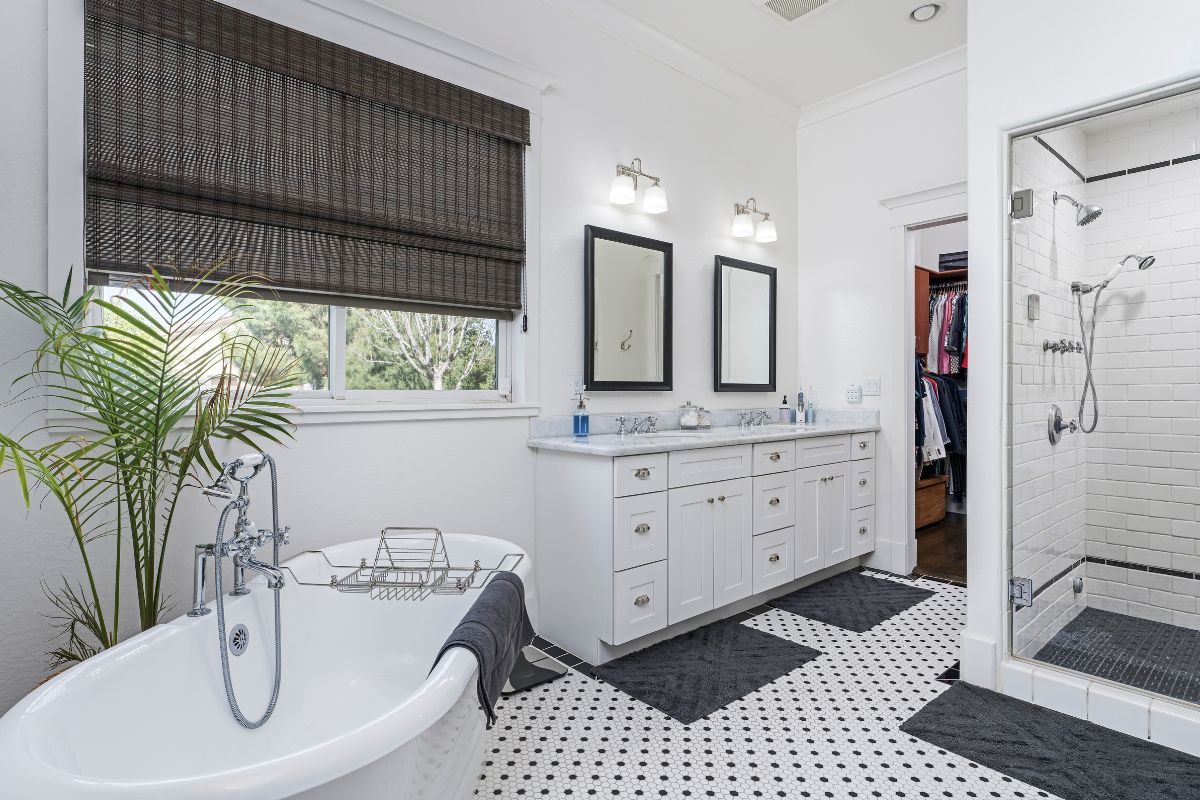 One of the best ways to breathe new life into an old small bathroom is to add tile. You can either re-tile your entire bathroom or do only specific parts. However, it's crucial to get the bathroom tile right regardless. Homeowners with a low budget often install a new floor tile, paint the walls, and do an accent tile backsplash surrounding the vanity. 
Depending on the materials you want to use, a professional tile installer will charge $550 to $1,500 to put up an accent wall. Further, the average cost of installing tile flooring alone in a 5×7 bathroom is around $1,200 to $1,900, depending on the material and complexity of the job. 
The average flooring cost runs between $28 to $35 per square foot, including materials. Interestingly, budget materials cost around $6 per square foot. Moreover, labor charges for installing tiles start at $21 to $24 per square foot. 
Sanitaryware Costs
For a shower, you can expect to pay around $1,500 to $2,500. The prices will also depend on whether you want a walk-in shower or not, and of course, on the dimensions and materials. The price of a bathtub is generally between $600 and $2000. But at the premium hot tub or jacuzzi, the cost can go up to $5000.
You can find a high-quality shower faucet starting at $600, but here again, if you opt for luxury, you may have to spend around $1500. Similarly, for a sink faucet, you will be paying about $200 to $400.
Last but not least: the toilets. A standard floor-mounted toilet will cost you about $250, while for a suspended toilet, you will have to shell out about $600. Some people also prefer a toilet with a shower. If that's the case with you as well, expect to pay about $2,000.
Vanity and Cabinetry Costs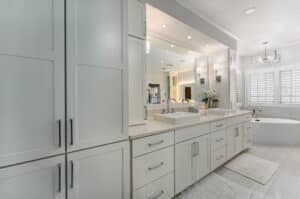 In a small bathroom, your goal should be to maximize functionality while saving space. If you don't have a lot of square footage to spare, think about vertical and floating wall-mounted bathroom accessories. For a high-quality designer bathroom cabinet, you should plan to spend around $1000 to $3000. If to wish to stay in an economical range, the bathroom cabinets will still cost you about $400 to $800.
A good quality single floating bathroom vanity will cost you around $400. Further, you can purchase a basic single sink vanity that stands on the floor for as low as $120 to $150. Custom cabinets and shelving start at $100 to $250 per square foot. 
Lighting Fixtures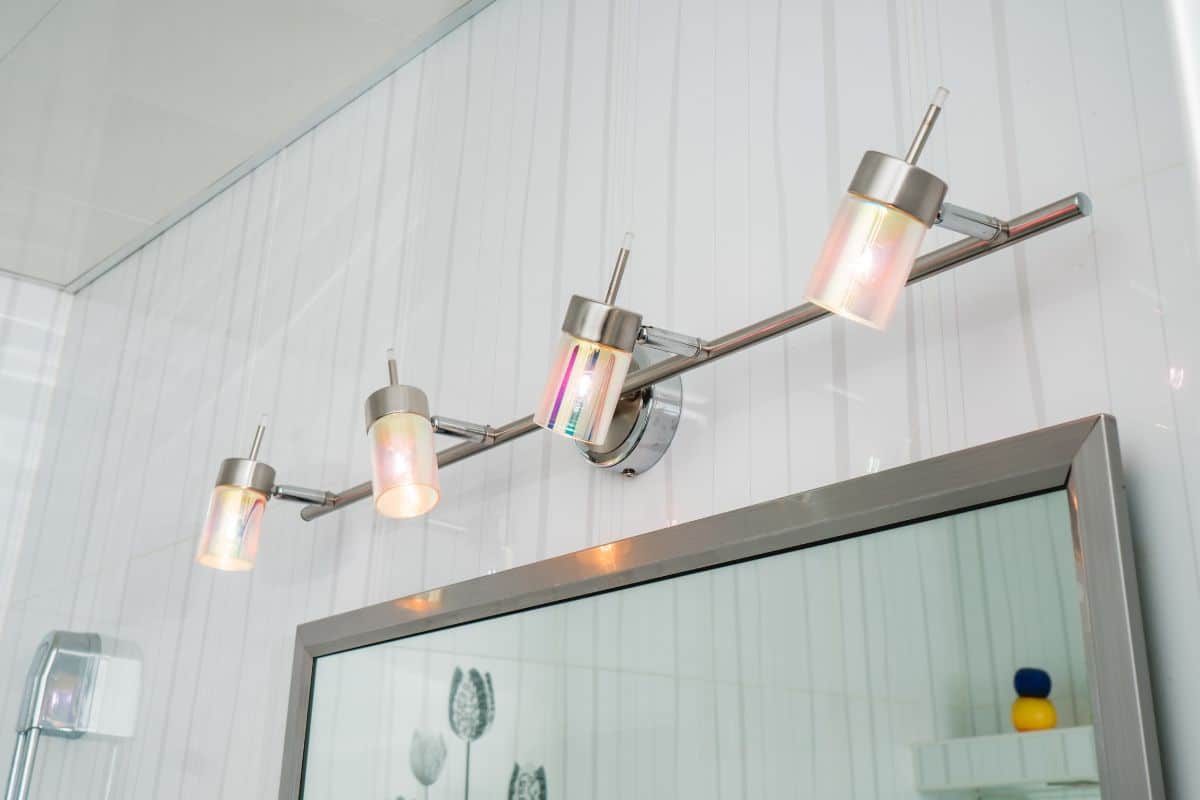 Sufficient lighting is crucial for a small bathroom, particularly if it doesn't have any windows or skylights. On average, costs for bathroom vanity lighting are $150 to $450, depending on the design and finish. Furthermore, a bathroom chandelier can cost as low as $100 and go up to $2,000 and upwards depending on the number of lights and style. 
If you are looking to install recessed lighting, you will need to hire a professional electrician. Besides, you can expect to spend between $120 to $200 per light. 
Labor Costs
Even with a DIY strategy, certain elements during remodeling a small bathroom need expert intervention, like lighting and plumbing. Labor cost constitutes a significant portion of your remodeling budget.
On average, you will spend about 45% of the total budget to compensate for the labor. This price varies from one professional to another. The cost of a plumber, for example, starts at $40 per hour on average against a minimum of $25 per hour for the painter.
The price can respectively go up to $55 and $70 per hour, depending on the technical nature of the work. The tiler and the electrician will also charge an average of $30 per hour.
Countertop Costs
If you opt for an upscale remodel, installing custom bathroom countertops is an essential upgrade. Granite, marble, quartz, and soapstone account for some of the most popular bathroom countertop materials. 
On average, you can expect to shell out $40 to $60 per square foot to install a basic granite or quartz countertop. Alternatively, marble and soapstone would cost $95 to $140 per square foot. 
How to Save on Small Bathroom Remodel?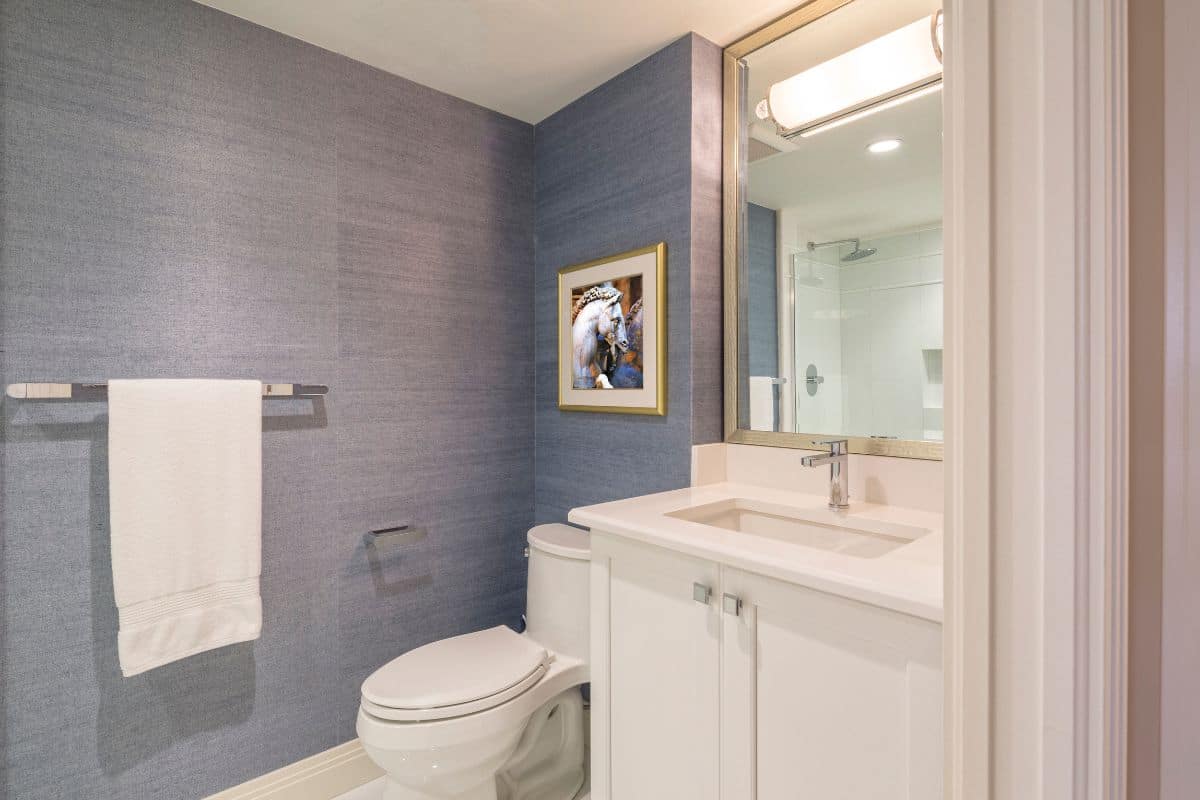 If budget is a constraint and you are pretty handy, you can try to go for a DIY approach. Contractor and labor are expensive and constitute around 40% of the total remodeling budget. 
Keeping plumbing and electrical work aside, you can get away with spending $2,500 to $4,500 on a bathroom remodel. However, you will have to purchase the materials yourself and DIY the rest of the labor.