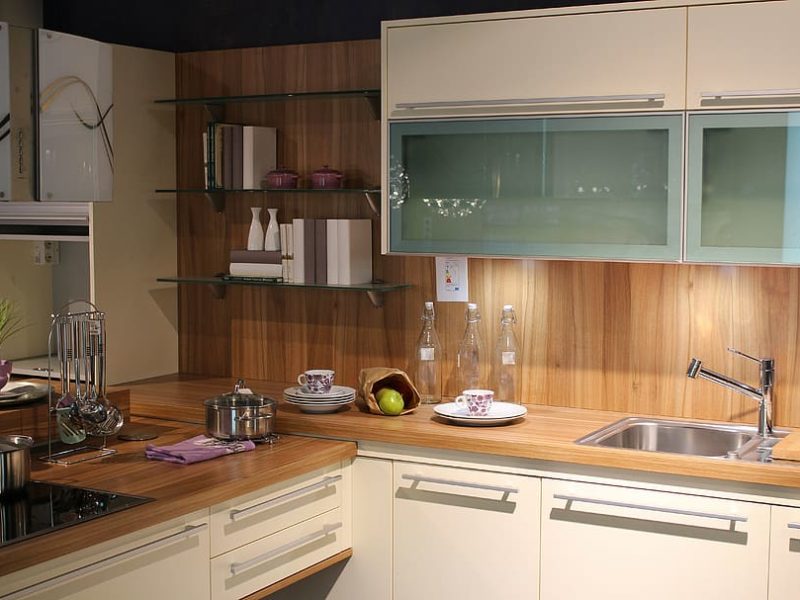 It is 2021, and a lot has changed in the world of kitchen remodeling. When it comes to interior design, a lot has changed and continues to change as we speak. In such a scenario, how do you begin remodeling your kitchen? These kitchen remodel ideas of 2021 are a good starting point for you to get inspired by while designing your dream kitchen.
Kitchen Remodel Ideas 2021
The World of Color
In the world of color, there are two opposing ideas that are trending: 
Bold Colors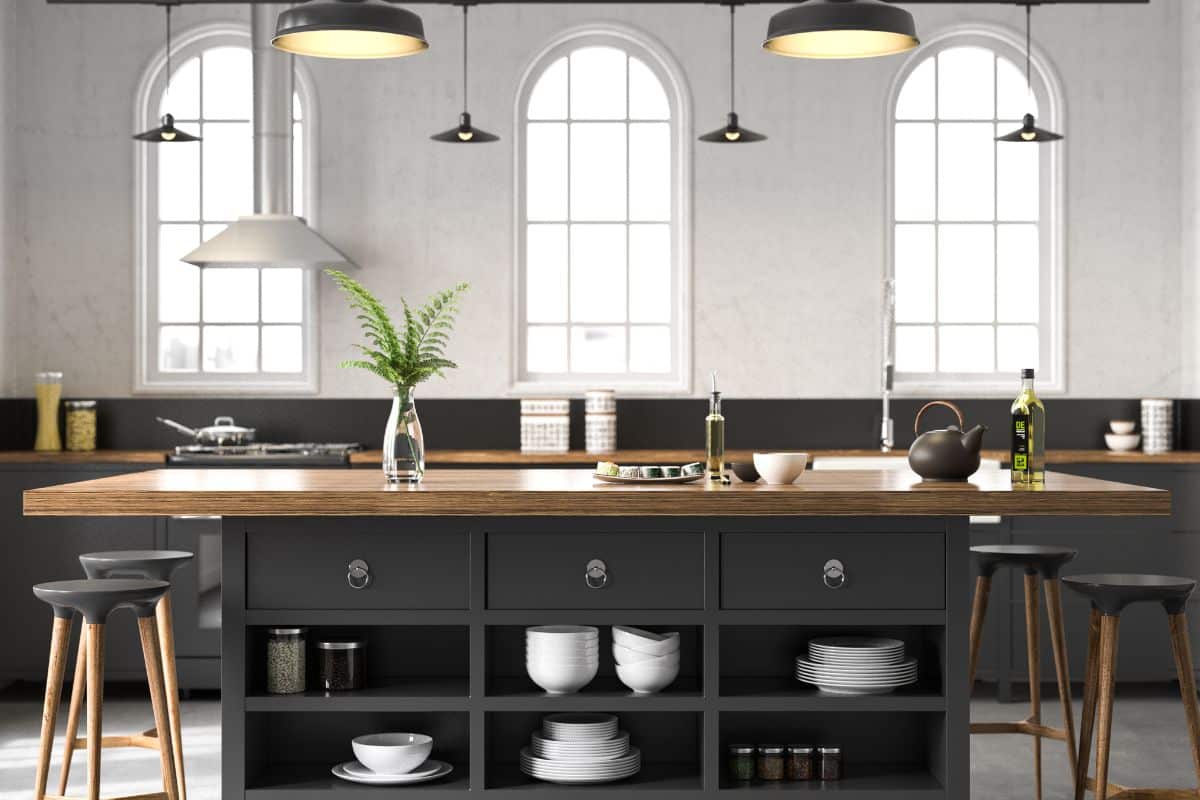 Black is still holding steady this year whether it's your countertop or cabinets. If you love the look of black cabinetry but worry that your cabinetry will make your kitchen look small or cramped. Consider using this color on your lower cabinets or kitchen backsplash and pairing it with a lighter color for your uppers or pair those lighter cabinets with a darker countertop. 
Contrast is a big trend this year as well. Black can get a bit too much, and you can always switch to navy blue, which is still a significant kitchen remodel trend in 2021. Other jewel tones like plum or emerald greens are still holding strong. 
Warm Finishes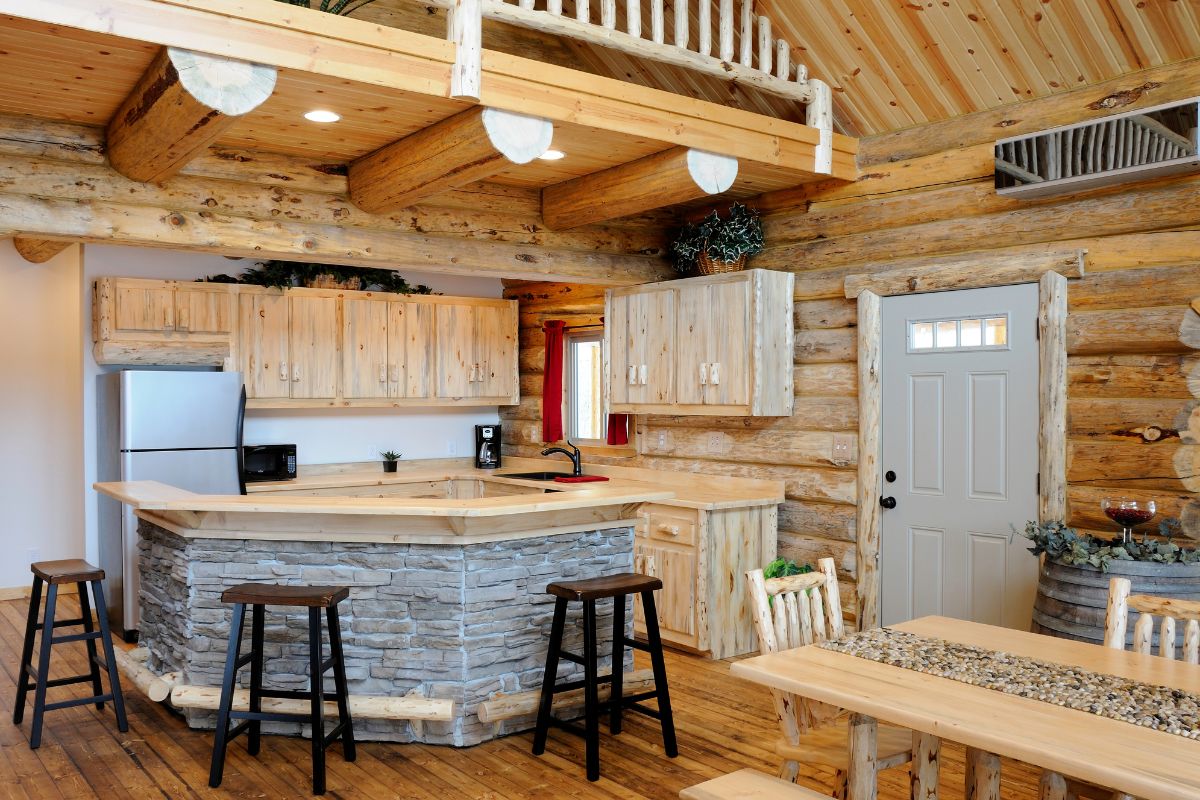 On the opposite side of the spectrum, warm finishes are really on the rise in kitchen design, including beige, brown, copper, or warmer grays. This is a continuation of a natural-organic trend. The use of natural materials like jute, rattan, or bamboo walnut finishes are especially on-trend in 2021. 
To pull the whole look together, consider adding a euro-style laminate for your remodel idea to come to life. There is no second thought here; walnut finish adds a feeling of warmth and luxury. 
Metal Mixing
Imagine throwing out all the cabinet hardware altogether and opting for push-to-open doors instead. For a more streamlined and more paired down, contemporary look; try adding hints of brushed brass into your remodel. 
If you can't imagine getting rid of your hardware, definitely consider mixing metals in your kitchen remodel. As a rule of thumb, don't mix more than three metals in the same space. Pick a more dominant color while mixing three metals or fewer to tie the space together. You don't want every single piece to try and compete for attention. 
Maximize Cabinetry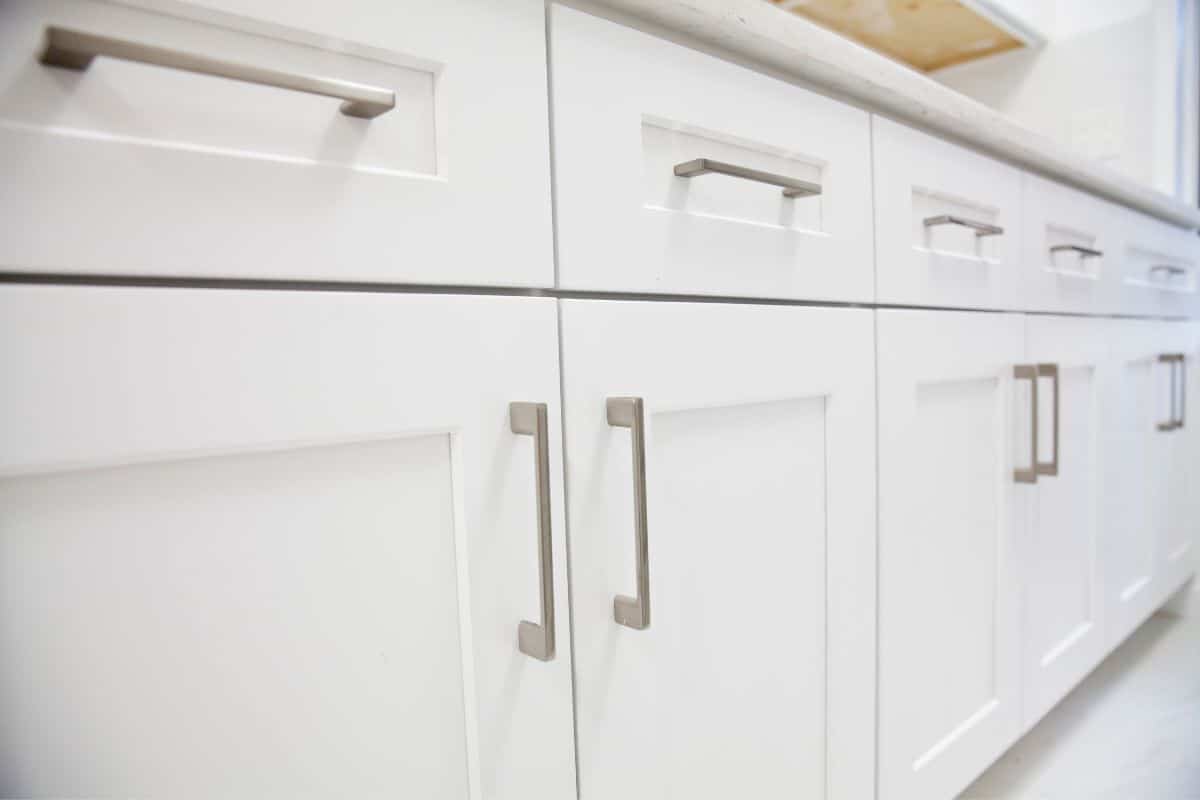 In terms of functionality, there is more of a focus than ever on maximizing cabinet storage. There's a continuous rise in smarter, more efficient storage solutions, including pull-out pantries, appliance garages, tray dividers, and floating shelves. Adding under counter appliances in your kitchen island for a more smooth finish is also a great option.
Utilize your cabinet doors by hanging organizers that can easily fit small things like cutlery. One major problem that homeowners encounter is fixing the cleaning supplies cabinet. A simple trick is to hang spray bottles on to a rod. It will make items easier to sort and use. Similarly, you can also hide your appliances with a cabinet-front to give your kitchen a more seamless look.
TIP: Use the tops of your cabinets to stash special occasion serving platters, expensive wine glasses, and extra pantry items that you don't use frequently. 
Open Shelving
Open shelving is a great option to add to your 2021 remodel both, functionally and aesthetically. Functionally, it makes getting to your everyday dishes, especially while you are cooking. And aesthetically, it helps to open up and brighten your kitchen. They are a great addition if you have a smaller kitchen. Interestingly, more and more homeowners are looking to add more of their personality to their remodel.
Open floating shelves are a great way not only to add some elegance and style but also some extra storage space. Similarly, you can then avoid cluttering up your kitchen countertop with items that are scattered everywhere. You can easily customize everything to keep it organized and meet your kitchen storage requirements.
You can also add unique accessories to your open shelving, such as artworks, wall letters, antique china, beautiful glassware, and more. To further highlight those unique accessories, you should consider adding accent lighting. Which brings us to the next point.
Accent Lighting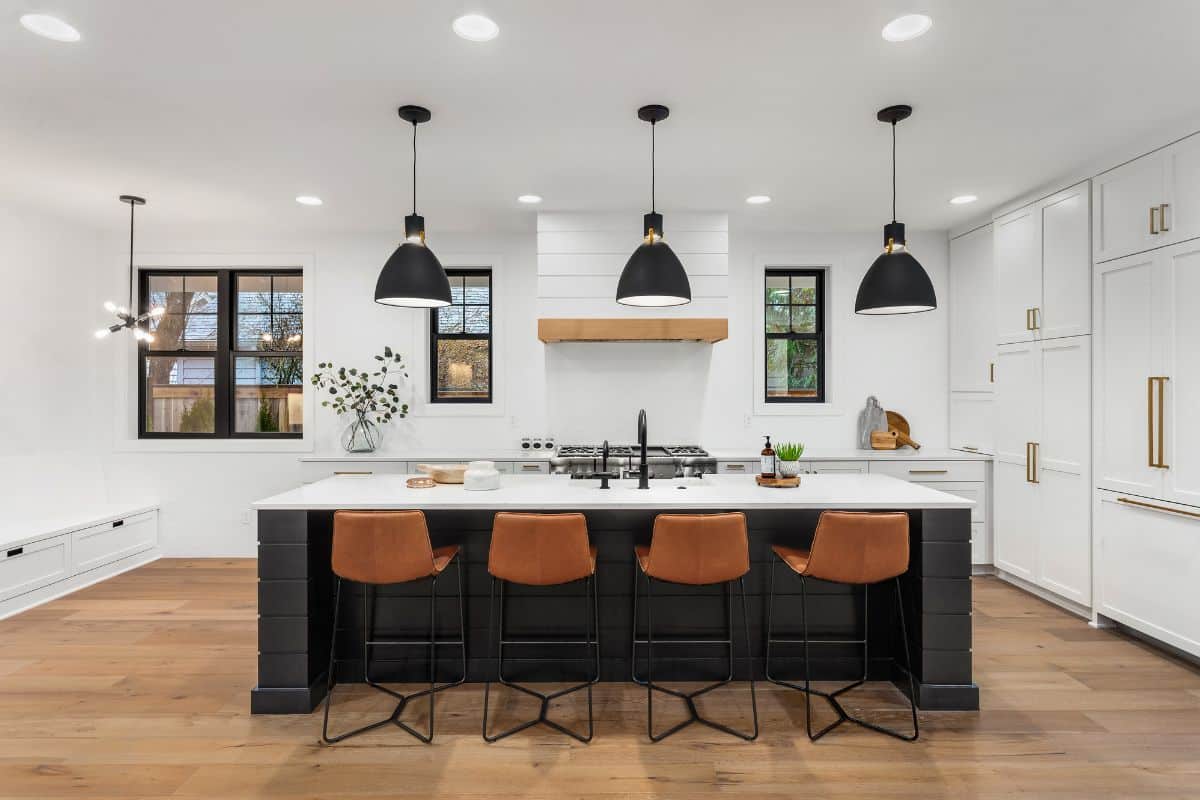 Everyone loves a well-lit space. Even though windows are a good source of light, you still need additional lighting.Pendant lighting, cabinet lighting, LED strip lighting on open shelving or under upper cabinets are easy ways up the wow factor in your kitchen. These lights will steal the show, no pun intended. 
Pendant lights are the simplest and yet the most effective method of helping any kitchen look brighter and more luminous. This style is excellent for small kitchens, especially since you can always customize them with ease. Even hanging pendant lights with exposed wires are a fantastic addition to your kitchen remodel. 
Under-cabinet lights serve a dual function, as they can be used as a mood changer in your kitchen, and simultaneously as a space saver as well. You can also control the overall brightness of the lights according to your preference. Shift those many light dimming options and get your desired result.  These lights are a great way of introducing tech in your kitchen.
Fitting Fixtures in Your Kitchen Remodel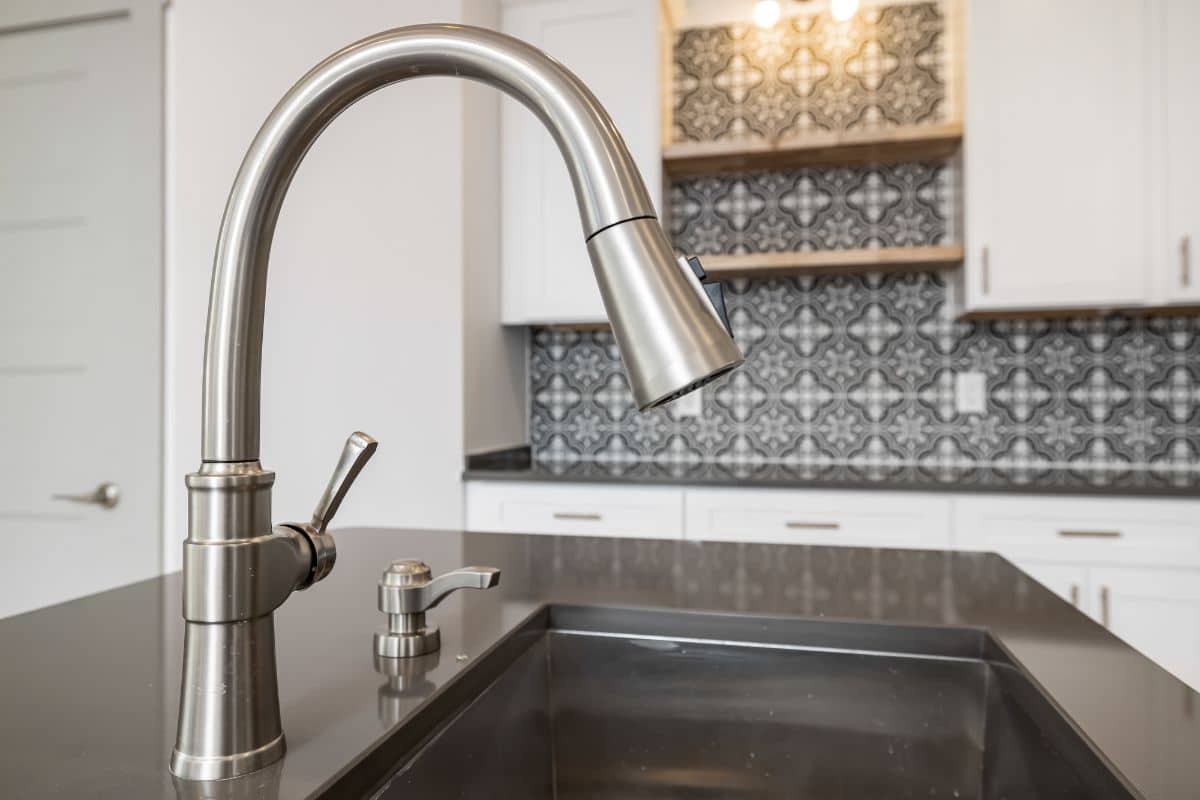 Let's talk about fixtures. Stone sinks are gaining popularity, but so are composite sinks. These sinks are made from a variety of highly durable materials such as quartz dust, and acrylic resins. They provide a similar look to stone sinks but are easier to maintain as they are naturally non-porous. Unlike stone sinks, they don't have to be resealed periodically. If low maintenance is your theme, these fixtures should be your go-to option. 
A pull-down sous faucet is a great way to provide exceptional control and flexibility in the kitchen. It has a 360° swivel arm for unobstructed use of the sink, simplifies cleaning, and the magnetic docking holds it in place. They're affordable and reliable at the same time. 
Kitchen Remodel Ideas 2021: A Guide
Our kitchen remodel ideas 2021 guide aims at informing you about the latest design trends that are worth exploring. You should keep your kitchen space in mind and stick to ideas of your liking to ensure a uniform outcome and after which you can just relax in your beautiful new kitchen.