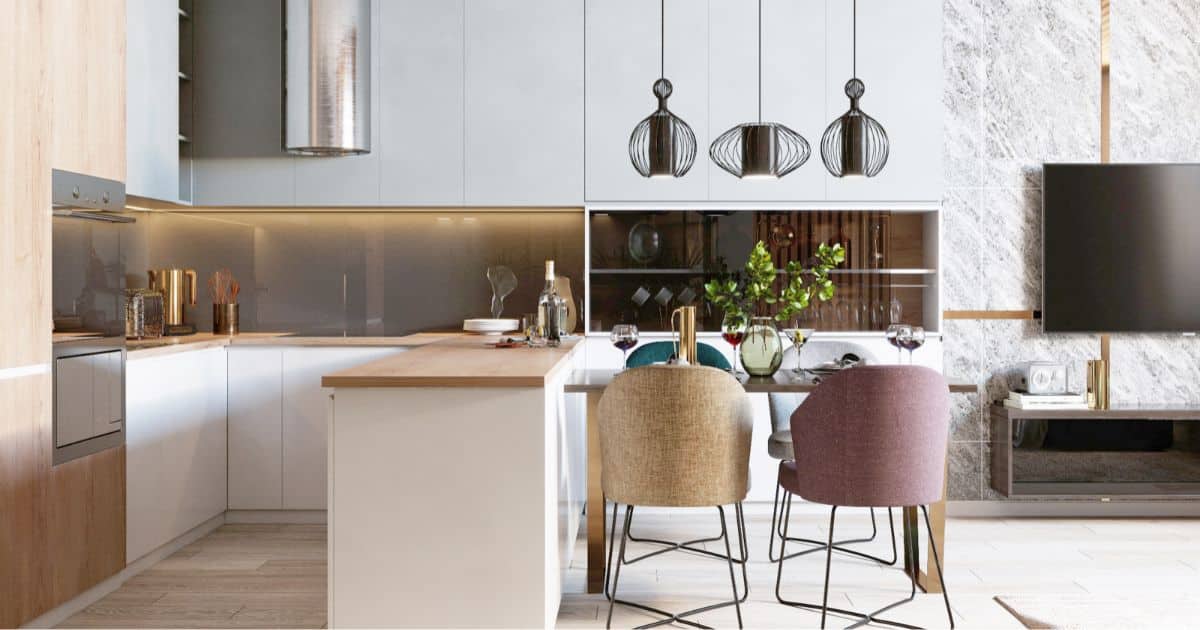 Small kitchens aren't exempt from having a stylish workspace. A small kitchen peninsula is the perfect functional design solution to give limited space maximum utility. In this article, we'll cover the benefits of a small kitchen peninsula and some design ideas to give you a taste of how lovely and versatile this fixture is. 
What is a Small Kitchen Peninsula?
A kitchen peninsula marries the workspace of a kitchen island with the multipurpose practicality of a kitchen counter. It's essentially a countertop extension that protrudes from a wall or existing cabinetry. A key detail that sets it apart from a kitchen island is that it's not a free-standing fixture. Where a kitchen island typically takes up plenty of space while offering plenty of counter space, a peninsula saves floor space while still providing a good workspace. 
Although a space-saving solution, a peninsula isn't exclusive to small kitchens. It's an excellent fixture to add storage and seating without taking up too much space. 
Why Small Kitchens Pair Perfectly with a Peninsula
If you've got a small kitchen on your hands, know that a peninsula is an excellent option to maximize the space and utility of your kitchen. Here are some benefits you can look forward to should you opt for a kitchen peninsula. 
Space-saving
A peninsula gives you the benefits of a kitchen island without compromising on precious and limited floor space. When it comes to small kitchens, every bit of space counts. Installing a peninsula optimizes limited space, and gives you far more than the little space it takes up. 
Functionality
A peninsula has more to offer than a workspace. You can design it accordingly to add more storage and seating. All win-wins for a small kitchen. 
Versatility
Even small kitchens can have the glamor of a custom-built piece. A peninsula can be specially designed to suit your needs and style preferences. Think custom shelving and seating. You can also customize the peninsula itself, curating the design from the material all the way down to the shape of the peninsula. 
Better Workflow
Peninsulas can help create a more efficient work triangle (the path between the refrigerator, stove, and sink), making your kitchen easier to navigate.
Increased Resale Value
A well-designed peninsula can improve the appeal of your kitchen and increase your home's resale value. Opt for high-end materials and an overall well-built fixture to get the most of a peninsula's value. 
Drawbacks of a Peninsula
While a small kitchen peninsula can be a game-changer, it's essential to consider potential drawbacks:
Limited Mobility
Peninsulas can restrict movement, especially in tight spaces. Ensure there's enough room to navigate around it comfortably.
Potential Clutter
With added storage and countertop space comes the risk of clutter. Keep the area organized to maintain a clean and inviting atmosphere.
Cost
Adding a peninsula to your kitchen might require additional expenses, such as purchasing new cabinetry or hiring a contractor.
Costs of a Small Kitchen Peninsula
The cost of a small kitchen peninsula varies depending on the materials, design, and installation. Here's a rough breakdown:
Materials
Countertops range from $20 to $250 per square foot, while cabinetry costs $100 to $1,200 per linear foot.
Labor
Hiring a contractor for installation can cost $50 to $100 per hour.
Extras
Additional expenses, such as plumbing, electrical work, and permits, can add to the overall cost.
To stay within budget, consider cheaper alternatives like repurposing existing cabinets or using affordable countertop materials.
Peninsula Design Ideas You'll Love
Ready to be inspired? Check out these fantastic small kitchen peninsula ideas:
Waterfall Countertop
A waterfall countertop extends down the sides of the peninsula, creating a sleek and modern look. It's perfect for contemporary kitchens.
Built-in Storage
Maximize your storage potential with built-in shelves, drawers, or cabinets. This feature not only adds function but also a touch of style.
Breakfast Bar
Add barstools to your peninsula for a casual dining area. It's perfect for quick meals, coffee breaks, or entertaining guests.
Dual-level Design
Create visual interest with a dual-level peninsula. The raised section can hide cooking messes, while the lower level provides extra workspace. This design also allows for separation between the cooking and dining areas.
Statement Lighting
Illuminate your peninsula with pendant lights or a stylish chandelier. It adds ambiance and serves as a focal point in the kitchen.
Colorful Accents
Introduce pops of color to your peninsula with vibrant barstools, a colorful backsplash, or painted cabinetry. These accents can breathe life into your small kitchen.
Open Shelving 
Incorporate open shelves into your peninsula design for a more airy and spacious feel. This approach is perfect for displaying decorative items or storing frequently used kitchen essentials.
Rustic Charm
If you're a fan of farmhouse or rustic styles, consider using reclaimed wood for your peninsula's countertop or adding shiplap siding to the base. These elements will bring warmth and character to your kitchen.
Mixed Materials
Combine different materials, such as a wooden countertop with metal accents, to create a unique and stylish peninsula. This approach adds visual interest and texture to your small kitchen.
Built-in Appliances
Incorporate small appliances, like a microwave or beverage cooler, into your peninsula design for added convenience and a streamlined look.
A small kitchen peninsula is a fantastic addition and solution to making the most of limited kitchen space. To ensure you install a peninsula that works for you, remember to consider your personal style, needs, and budget when designing your small kitchen peninsula. With a little creativity and planning, you can create a stunning and practical kitchen space that you'll love spending time in. Happy remodeling!