Are your appliances all over the place? Is your countertop messy? Well, it is evident that no one wants to have a cluttered kitchen. NV Kitchen and Bath offers some remodeling guidelines for hiding kitchen appliances with cupboards. There are filing cabinets for hiding appliances, which you can install to increase the storage space in your kitchen. The guidelines have perfect design solutions for kitchen storage space.
The guidelines for hiding kitchen appliances with cupboards will help to get the most out of your kitchen area. In addition, it will make your cooking and cleaning enjoyable.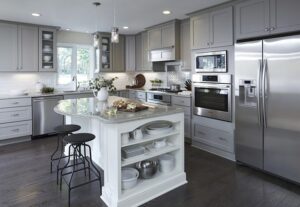 Set up swing-out shelves
Enhance swing-out shelves to your cupboards to upsurge the storage in your kitchen and hide appliances. You can install these to cabinets and then, you will be able to protect your tools. These will make the most out of your storage space. The good thing about the bottom shelf is they spread out for easier access to all your hard-to-reach places.
The use of pullout shelves
Pullout drawers will help you to remove the mess and make things easier in the kitchen. You can also use them for putting your containers, pans, and Tupperware. It is vital to put your most-used kitchenware in front so you can access it.
Use an appliance garage
Appliance garages can fit well into your kitchen through a flip-up hatch. This will not take a significant amount of counter space. Remove countertop mess and hide your appliances with the use of an appliance garage. You can hide all coffee makers, toasters, Blender, under this garage-door-like filing cabinet. Then you will not need to move your appliances when using them.
Set up a kitchen island
Fixing a kitchen island can be the solution to all your storage problems. Islands provide your kitchen with extra drawers, pullout shelves, as well as cabinets. As a result, you will have extra space for your appliances. With base storage, you do not interfere with the preparation area of your kitchen. Therefore, you will have more space on your countertops. You can buy a pre-built island at any home-furnishing store.
Add a double-door pantry
If you are considering about remodeling your kitchen, add a double-door pantry. This is a great place to hide your large appliances, such as your microwave or toaster oven. You can also use the inside of the pantry doors as shelves to store your smaller kitchen accessories.
Hide your fridge with panels
Sometimes, you may need to hide your fridge because it does not match the style of your kitchen. You need to cover up your refrigerator and other more significant appliances with cabinet panels. This will create a smoother, more fluent look in your kitchen. Make sure you get panels that match the rest of your kitchen to hide your big fridge.
Get a kitchen design
If you do not know what with your appliances, then you can get an open kitchen design consultation from NV Kitchen and Bath. You will be able to decide on the best style and current design. You should get a design that fit your budget but also creates a more practical kitchen space, to complement the design. Of all the guidelines for hiding kitchen appliances with cupboards many people from the west, embrace this one. It is safe for all users and offers a high-end look to the kitchen.
Conclusion
In conclusion, Kitchen appliances are useful, but many of them take up valuable counter space. So, always take advantage of your cabinets by hiding your tools in there. Following these guidelines for hiding kitchen appliances with cupboards will help keep your kitchen more organized as well as appealing.