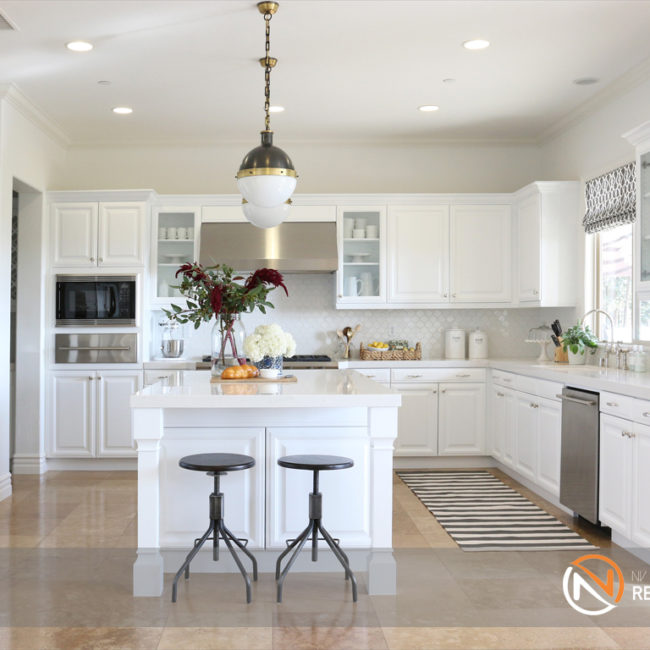 Your kitchen should operate uniformly well for all the family members. Moreover, your kitchen should accommodate the visitors you welcome to your house. That is why you should select the best countertop for your kitchen remodeling.
Nevertheless, there are many choices to select from that it can be quite overwhelming. Here is a list of the best countertops that can save you a lot of confusion and time. Choosing the best countertop for your kitchen remodeling will make you reap the benefits of kitchen remodeling.
Natural Stone Countertops
Granite countertops are now making a regular appearance in houses of all sizes. It is stunning, comes in an extensive variety of functions, colors, and looks. Conversely, granite is quite substantial. Hence, your base cabinet may need extra reinforcement to hold up the weight.
Quartz Countertops
Amazingly, quartz is quickly growing in fame. The manufacturers make the countertop from crushed quartz. Furthermore, the manufacturers blend the quartz with color pigments and resins. It is apparent that there are many quartz countertops. Their surfaces are resistant to heat, hard, and have low maintenance. In addition, quartz has non-porous components that provide anti-bacterial advantages.
Marble
Marble is a darling to most cooks. A crisp natural stone is both stunning and ageless. Even though it is scorch resistant, marble can chip, stain, and scratch.
Soapstone
Soapstone is stunningly beautiful, has a soft feel, nonporous, and heat resistant. On the contrary, soapstone needs frequent oiling to uphold the classic look and color.
Wood Countertop
Even though there are no many wood countertops used in kitchen remodeling, wood countertops can be dazzling if installed correctly. Hardwoods like cherry, maple, and mahogany make cozy and warm appearance kitchen countertops.
Besides Bamboo and other sustainable woods helps in creating a more up-to-date feel. Likewise, butcher block is a fantastic choice for cottage kitchen remodel. Homeowners often select it as a harmonizing surface countertop on the kitchen islet.
Wood requires oiling numerous times in a year. One con of wood countertop is that it can contract or swell when exposed to dampness.
Metal
Bring the glow with the stainless zinc, copper, or steel countertops. Amazingly, these countertops give a stunning appearance in modern kitchens. The metal countertop is hygienic and heat resistant. Likewise, the metal countertop is excellent on a center kitchen island. The Kitchen Island is the area where food service and preparation happens on a continuous basis. Metal finish is one of the best countertop for your kitchen remodeling. It comes in hammered, embossed, and patterned designs.
Solid Surface
Amazingly, solid surface countertops transformed kitchen renovations twenty years ago. Made from unique acrylic, they are popular because they resist heat. What is more, they are easy to clean and repaired merely by polishing. Even though solid surface countertop lacks the shiny feature of natural stone, it comes with a variety of colors. It flawlessly incorporated into backsplash or sink.
Concrete
Concrete countertops are significantly gaining popularity in kitchen remodels. It is because of the variety of artistic effects and colors that concrete offers. Amazingly, it you can use it in every décor as it stands out from other countertops. Nonetheless, the manufacturers will seal it to prevent stains and damages from extreme heat.
Laminate
Laminate countertops have the feel and look of natural stone. It is easy to maintain, and its options are incredible. Amazingly, the laminate countertop is cost-efficient and conveys a little wow in kitchen remodels.
To sum up, the article shares on fantastic ideas on the best countertop for your kitchen remodeling. You may still doubt your choices even after reading the piece. Do not worry as the NV KITCHEN AND BATH can help you determine which of the many options are perfect for your kitchen.