An essential aspect of a kitchen remodel is figuring out your budget. A necessary element of kitchen remodel costs is to learn about the most expensive part of a kitchen remodel.
Knowing your requirements well is one of the most important things at the beginning of the kitchen remodeling process. Once you do that, everything else starts falling into place almost instantly.
Keep in mind that the outcome of your remodeling project will impact your family life as well. Depending on the remodeling project scale, the process can be as simple as modernizing the cabinetry and hinges or as complicated as a total floor-to-ceiling remodel.
Having a properly designed and maintained kitchen will also increase the resale value of your home. The kitchen remodeling process is undoubtedly long, tiring, and expensive. By keeping aesthetics in mind and opting for a practical approach, you can design a refreshingly new space well suited to your preferences and budget.
In this guide, we will help you understand the most expensive part of a kitchen remodel. Furthermore, you will then be able to put together a budget around the same.
The Average Cost of Kitchen Remodeling
Before we discuss the most expensive part of a kitchen remodel, let us consider the cost of an entire kitchen remodeling project. On average, you will have to pay around $15,000 to $30,000 to remodel a 10×10 kitchen. The average cost of remodeling a kitchen in the United States is about $20,000.
It is essential to understand that several factors influence this cost. That includes the countertop materials, cabinetry, flooring, etc. It also depends on the scale of your remodeling project itself. For example, choosing to purchase brand new appliances will cost you much more. These factors will decide whether the price you end up paying is greater or lesser than the average.
The Most Expensive Part of a Kitchen Remodel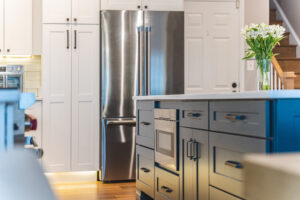 A lot of people feel that appliances are the most expensive part of a kitchen remodel. Surprising as it may be, that is not the case. It is the cabinets that take up the most significant part of your kitchen renovation budget. A question arises – why is that so?
In short, it is because the cabinets form a large percentage of a kitchen's real estate. However, there are also many other reasons behind it. For inexperienced people, cabinets appear to be just another item in their kitchen. They are generally ignored in favor of other, far more appealing entities in the kitchen. 
Cabinets, however, play a significant role in the kitchen remodeling process and its allocated budget. They are an integral part of the foundation of a kitchen. They play a vital role in providing storage and making a functional space. Everything from the labor involved to the painting material has a significant impact on your cabinetry price. If you choose to go for custom cabinetry, you will have to pay an even higher sum. 
On average, the cost of kitchen cabinets totals up to a massive $8,000. Such a large amount is probably equal to almost half of your budget. You are quite possibly wondering whether it is worth spending so much on just one aspect of a kitchen. We will discuss that query in detail below.
Why Is It Necessary To Spend So Much On Cabinets?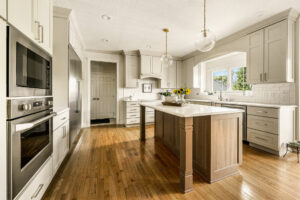 It is important why cabinets being the most expensive part of a kitchen remodel, are justified. We all know that the kitchen plays a vital role in the aesthetics and family bonding in your home.
Cabinets also help you ensure that your home retains high resale value. Kitchen remodeling projects are expensive in general, and they should be considered worthy investments.
Choosing from quality brands like MasterBrand, FabuWood, HomeCrest, and All Wood Cabinetry will breathe new life into your kitchen. Experts agree that your kitchen remodeling budget should lie strictly between 5%-15% of your house's value.
If you have already decided on your budget, you could have to break it down further. Kitchen cabinet designs play an important role in the same.
What Are The Other Important Aspects Of A Kitchen Remodel?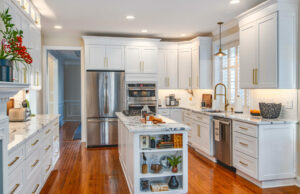 Apart from cabinets, a few other items are strong candidates for the most expensive part of a kitchen remodel as well. For example, kitchen appliances can cost you an average of $8,200. Similarly, the cost of purchasing quality marble or granite countertops can go up to $6,000.
While planning your kitchen remodel budget, you should keep aside some cash for unexpected and miscellaneous expenses as well. These include décor, lighting, and unexpected discoveries or accidents during the process.
Proper planning is the most important part of the kitchen remodeling process. You should be well acquainted with your requirements, resources, and limitations. You should keep an eye out for unnecessary expenses if you are on a tight budget. Make sure that you give priority to functionality over decor. Remember that your remodeling project's scale has a significant impact on the cost you end up paying. It is not necessary to go for an upscale remodel just for the sake of it. Make that decision based on your actual needs.
If you decide to hire a contractor, make sure that your project is completed correctly, on time, and within your budget. A lot of companies tend to include hidden costs in their contracts deftly. That leads to an unnecessary increase in the expenditure as well. Be vigilant and read up on their terms and conditions properly before signing up. Make sure you choose a contractor who is trustworthy, efficient, and co-operative. Meet them to discuss your requirements and budget beforehand.
After that, work with them closely during the remodeling process and ensure that everything is going as planned. These simple steps will help you make the most out of your budget and achieve the kitchen remodel of your dreams.