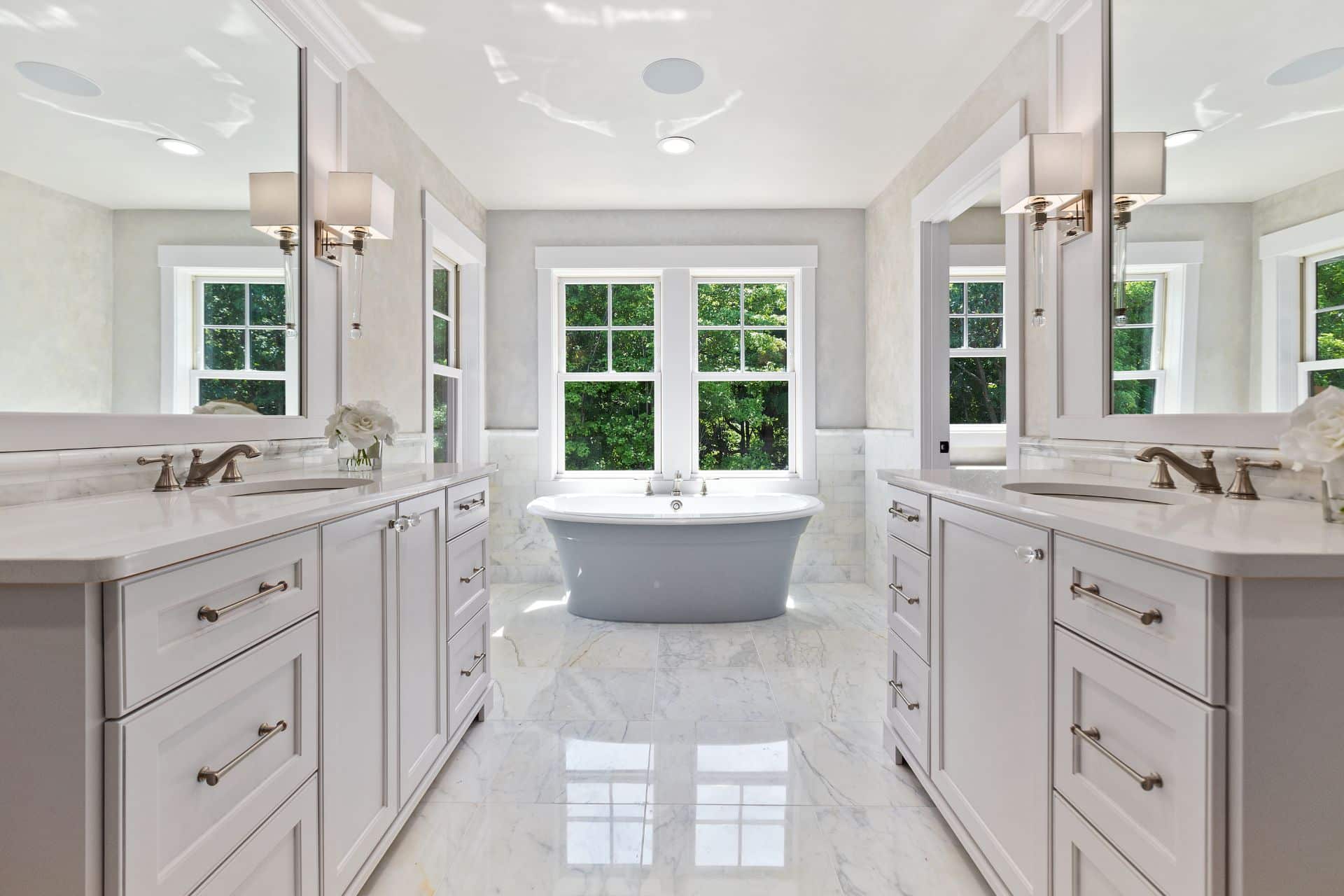 A bathroom makeover is a thrilling venture that can dramatically elevate your home's overall ambiance and worth. Arguably, one of the most significant facets of this transformation revolves around the choice of bathroom flooring. With a plethora of diverse and appealing options on the market, it can sometimes become a daunting task to choose the perfect blend of functionality and aesthetic appeal. In this comprehensive guide, we will delve into 10 inspiring bathroom floors ideas that will cater to a wide range of preferences in functionality and style. 
1. Ceramic and Porcelain Tiles: The Classics
Ceramic and porcelain tiles have been marked as bathroom flooring favorites for their excellent water resistance, impressive durability, and design versatility. With these tiles, your imagination is the limit—they are available in a staggering variety of colors, designs, patterns, and textures that can seamlessly blend with virtually any bathroom style. To enhance safety, particularly in wet conditions, opt for tiles with a slip-resistant finish.
2. Vinyl Flooring: Affordable and Practical
If you're searching for a pocket-friendly yet practical bathroom flooring option, vinyl flooring could be your perfect match. Boasting top-notch waterproof capabilities and ease of installation, vinyl floors are an excellent choice for DIY enthusiasts. Even more, vinyl flooring options come in a broad array of designs, effectively mimicking more expensive materials like natural stone and hardwood—perfect for those who desire a touch of luxury on a budget.
3. Stone Tiles: Unrivaled Luxury
Nothing quite matches natural stone tiles when it comes to creating organic opulence in your bathroom space. You can select from a range of exquisite stones, including marble, granite, limestone, or slate. Each of these stones brings a unique, sophisticated, and enduring appeal to your bathroom floor. 
Although they may require a bit more maintenance to keep them looking their best, the beauty stone brings to a bathroom makes this material very well worth it. 
4. Concrete: Minimalist and Modern
Concrete flooring offers a unique alternative for those who are drawn to an industrial, minimalist look. Renowned for its excellent resistance to moisture, concrete can be tailored to your personal style through the addition of dyes and textures. It's worth noting, though, that concrete may feel cold underfoot, so consider underfloor heating for added comfort.
Additionally, ensure that the concrete is properly finished and sealed as this highly porous material gives in to moisture damage easily. 
5. Engineered Hardwood: Wood, Reinvented
If you're enamored with the natural warmth and allure of wood but worry about potential water damage, engineered hardwood flooring might be the solution you've been looking for. This innovative flooring option combines the aesthetic charm of real wood with enhanced resilience to humidity and moisture, making it an ideal choice for bathrooms. Thanks to their hyper-realistic look, engineered hardwood gives you the aesthetic appeal of real wood, for a fraction of the price and maintenance effort. 
6. Pebble Tiles: A Spa-like Feel
For those seeking to recreate the serene, calming ambiance of a spa in their bathroom, pebble tiles are a fantastic choice. Besides offering a unique feel underfoot, pebble tiles bring an earthy, organic aesthetic to your bathroom. Importantly, they also provide a non-slip surface, contributing to overall bathroom safety.
When working with pebble tiles, consider the grout color and the pebble tile color itself for a cohesive look. 
7. Cork Flooring: Sustainable and Comfortable
Cork flooring is a testament to the intersection of sustainability, comfort, and functionality. This eco-friendly material is warm and insulating underfoot, creating a cozy atmosphere in your bathroom. Moreover, it is inherently resistant to mold, mildew, and bacteria, which are common concerns in bathroom environments.
Work with its lovely texture and natural warmth by pairing it with other organic elements such as stone and wood. Cork bathroom floors pair especially well with light colors as well so consider light walls and fixtures. 
8. Glass Tiles: Modern and Glossy
If you are attracted to cutting-edge, lustrous finishes that play with light elegantly, glass tiles could be the perfect fit for your bathroom. These tiles feature resistance to stains, mold, and mildew, infusing your bathroom with a distinct, chic aesthetic. 
However, it's important to note that glass tiles may present a slip hazard when damp. Hence, for homes with young kids or older adults, careful consideration and necessary safety measures should be taken. A non-slip finish is a proactive way to ensure safety as well as hand bars and non-slip carpets for added precaution. 
9. Terrazzo: A Fusion of Old and New
A flooring material that has seen a recent surge in popularity is terrazzo. Originally used in Italian palaces, terrazzo is a composite material made from chips of marble, quartz, granite, glass, or other suitable material, poured with a cementitious binder, polymeric, or a combination of both. 
Terrazzo offers a unique, retro yet modern look that's versatile enough to fit any bathroom style. With that said the inherent eye-catching aesthetic means it pairs especially well with solid clean fixtures. A white tub, streamlined sinks, sleek mirrors, and hardware contrast the visual business of terrazzo tile well. Bonus points are that it's highly durable and water-resistant, making it a practical yet stylish choice for bathroom floors.
10. Bamboo Flooring: Sustainable Elegance
When contemplating bathroom floors ideas, bamboo flooring stands out as an epitome of elegance and eco-friendliness. It's a renewable resource, offering durability similar to traditional hardwoods, but with enhanced water resistance. This type of flooring comes in an array of shades and grain patterns, empowering you to tailor your bathroom design exquisitely.
One of the notable perks of bamboo flooring is its warmth underfoot, enhancing your bathroom's comfort quotient.
Conclusion
Delving into the realm of bathroom floors ideas, one must not only focus on their aesthetic charm but also on their functionality. Some materials may excel in aspects such as water resistance, comfort when walked upon, or ease of upkeep. Further, it is essential to ensure that your budget and lifestyle are in harmony with your bathroom flooring selection.
For households with kids or elderly occupants, safety should reign supreme. Bathroom floors that provide resistance to slipping are advisable, with options like textured tiles or pebble floors leading the pack. Alternatively, for those who relish extended, indulgent baths, the addition of heated floors could provide that extra layer of opulence.
If eco-friendliness is paramount to you, consider materials like cork and certain engineered hardwood variants. These are responsibly sourced and come with the bonus of being cozy underfoot—perfect for combating those brisk early morning chills.
The decision for the right bathroom flooring is deeply personal, and it should ideally enhance your happiness each time you step into your space. Whether you're contemplating a minor update or a comprehensive remodel, selecting suitable bathroom floors can significantly impact your bathroom's overall look and ambiance.
Bear in mind, these are just a handful of bathroom floors ideas. There's a universe of potential out there for you to get inventive with your bathroom flooring. Mix and match different materials, play around with various patterns and hues, and above all, construct a space that truly resonates with your individuality.