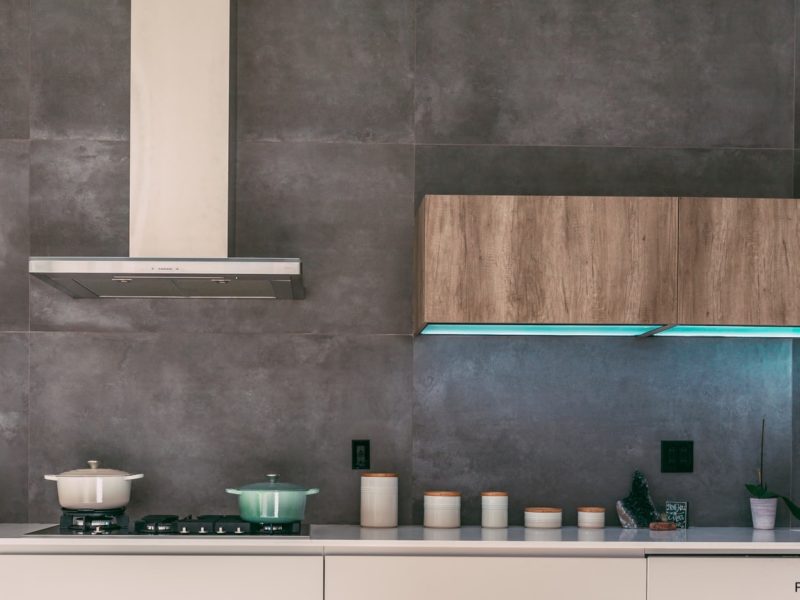 There are several rising new kitchen trends 2021 is going to witness. If you are seeking to upgrade your kitchen, you should try taking a good look at them.
Whether you want to get a classy kitchen island or go for an entirely new color scheme, keeping up with the latest trends can help you ensure that your kitchen stays warm, welcoming, and stylish. After all, we all know the prime importance that the kitchen has in our home.
New kitchen brands are turning up in the market with increasing frequency. Apart from creative new design ideas, we see subtle twists on vintage kitchen designs in the market.
This guide aims to provide some of the most popular kitchen trends 2021 will see emerging, as shared by experts at prominent retailers. By investing in any element of your kitchen, you can reap immense benefits. Not only will it enhance your life at home, but it will add resale value to your house.
A Conveniently Compact Design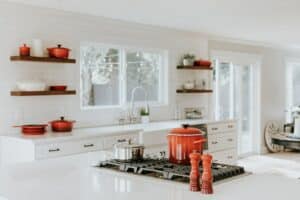 When it comes to houses where limited space is available, compact kitchens come in handy. Among kitchen trends 2021 will see, compact designs offering reduced clutter and high efficiency will be trendy. Of course, it is essential that the layout in question is improvised to make use of every centimeter of your kitchen.
For example, you can line up cabinets along with one of the walls. For narrower kitchens, tall wall units can come in handy and make the place feel roomier. You can also try including an open or floating island to make your kitchen more accessible. It can also help you accommodate additional seating arrangements for family and guests.
Hot Water Taps
Another prime entry among the kitchen trends 2021 will see rising in popularity is hot water taps. In the fall of this year, the sales of steaming hot water taps have been noted to grow by nearly 13 percent within a month. Similarly, online searches for hot water taps have increased by 25 percent this year.
While doing chores at home or relaxing in front of the TV or computer, people would need hot water for preparing coffee or tea by themselves. It is safe to conclude that this trend is going to stay strong soon.
Dark-Colored Surfaces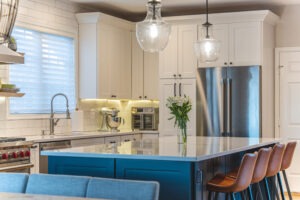 The demand for dark-colored surfaces will be among the hotter kitchen trends 2021 will witness. This is largely by virtue of the growing preference for two-tone kitchens, according to experts. Many people look at shades of black or grey as accent colors.
Thus, darker colored floors and worktops can make a room feel much more attractive. Light-colored furniture can notably offset dark-colored countertops and worktops. As a result, your kitchen will have an ambiance of sophistication and royalty. In combination with textured wood, it can make the place feel very inviting.
Two-Toned Kitchens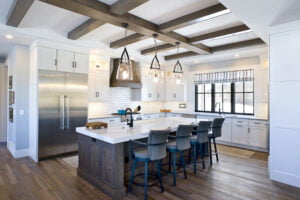 Experts agree that blended color schemes are going to be among the kitchen trends 2021 will see rising. Indeed, gone are the days where everything needed to be perfectly matched.
More and more people are seeking to combine colors for their kitchen cabinets. It gives a unique feel to the aesthetics of your kitchen. Lighter shades contrasting sharply with deeper, darker colors can give an aura of profoundness to your kitchen.
Charming Simplicity
Somewhere along the line, the pursuit of lavishness and exuberance became overwhelming. Thus, a lot of people are finding solace in minimalism these days. Speaking of kitchen trends, 2021 will witness a rise in streamlined kitchens. It is a style that gives a sense of calmness to your place.
For that, you need to choose quality materials that give priority to functionality and strong lines. At the same time, you need to ensure that this look of smoothness is not disturbed. You can easily do that by installing concealed storage space and integrated appliances.
Smart Storage Plans
Today, homeowners are struggling to de-clutter their houses amid all the junk and valuables alike. The solution to this problem is surprisingly simple – smart storage plans. This especially holds for kitchens, where so many items and appliances play a key role. Everything from the appliances and equipment to the ingredients needs to be stored properly.
Cleverly concealed and strategically placed storage adds to the aesthetics of the kitchen. Among the popular kitchen trends of 2021, we expect to see the kitchen larder playing an especially prominent role.
Green Cabinetry and Accessories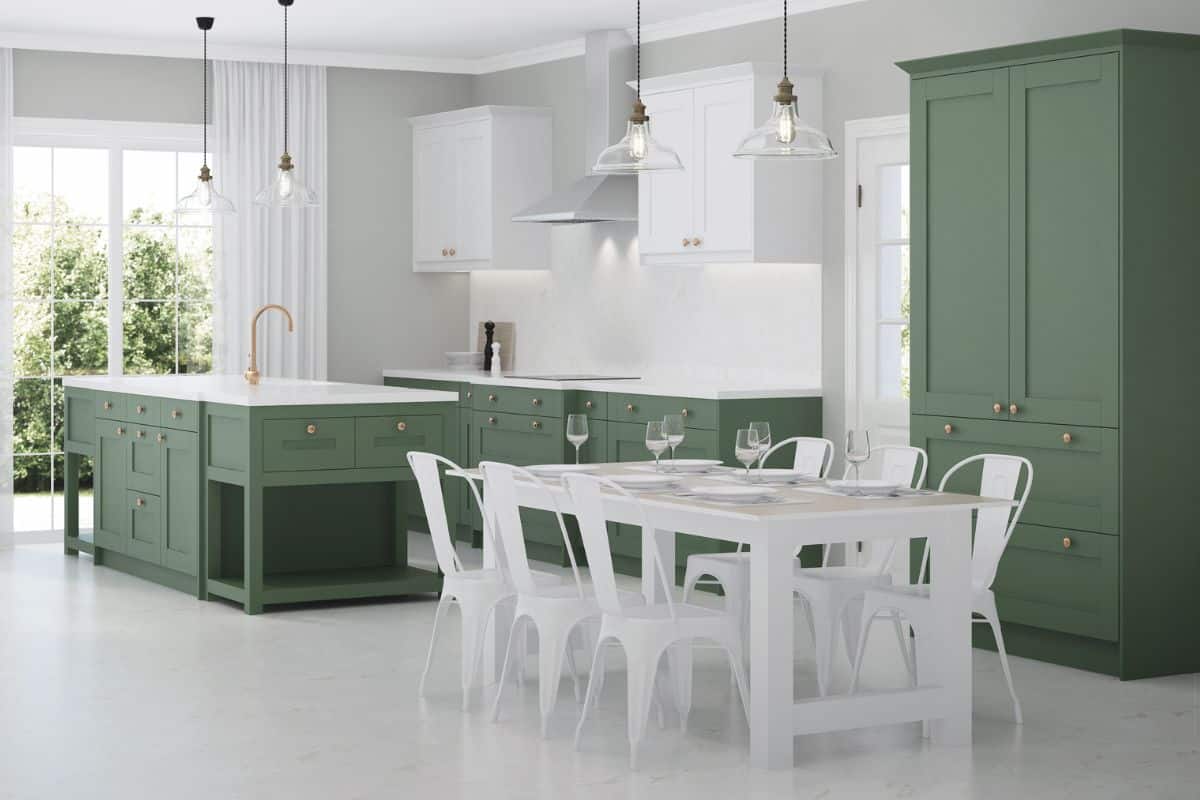 Until now, shades of navy blue had been quite popular among people. However, in 2021, experts expect to see the forest and emerald green colors more and more prominently in kitchens. This includes items like tiles, kitchen cabinets, and other objects and equipment. In your kitchen, shades of green can add an element of dramatic royalty.
You can balance these deep forest green colors with smoky glass, soft metallic, and matte shades. That will make your kitchen feel even classier. You can also try adding brass and white marble in worktops, lighting accessories, and other equipment. These can offset deeper hues by efficiently reflecting light around your kitchen.
Living Room Furnishings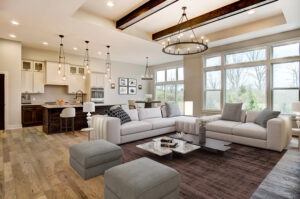 The popularity of open-plan living is on the rise. Thus, it is not difficult to see why the demand for living room furnishings is growing. In the contemporary world, kitchens play a role more important than ever in our lives. Thus, you must design a comfortable and well-presented space for the same.
Designers are more liberal than ever regarding lighting in modern kitchens. They are using statement pendants to dress the aesthetic. As of now, there is still limited use for downlights and spotlights in this regard. However, the trend for remodeling kitchens after living rooms is on the rise.
Modern Takes on Traditional Design
Traditional styles like shaker-style cabinetry continue to be in high demand. However, in the upcoming year, we will see a contemporary on-trend color take on tradition. By virtue of this, your kitchen will have an appealing and unique modern twist to it. It is an excellent way of uniting the two styles most respectfully.