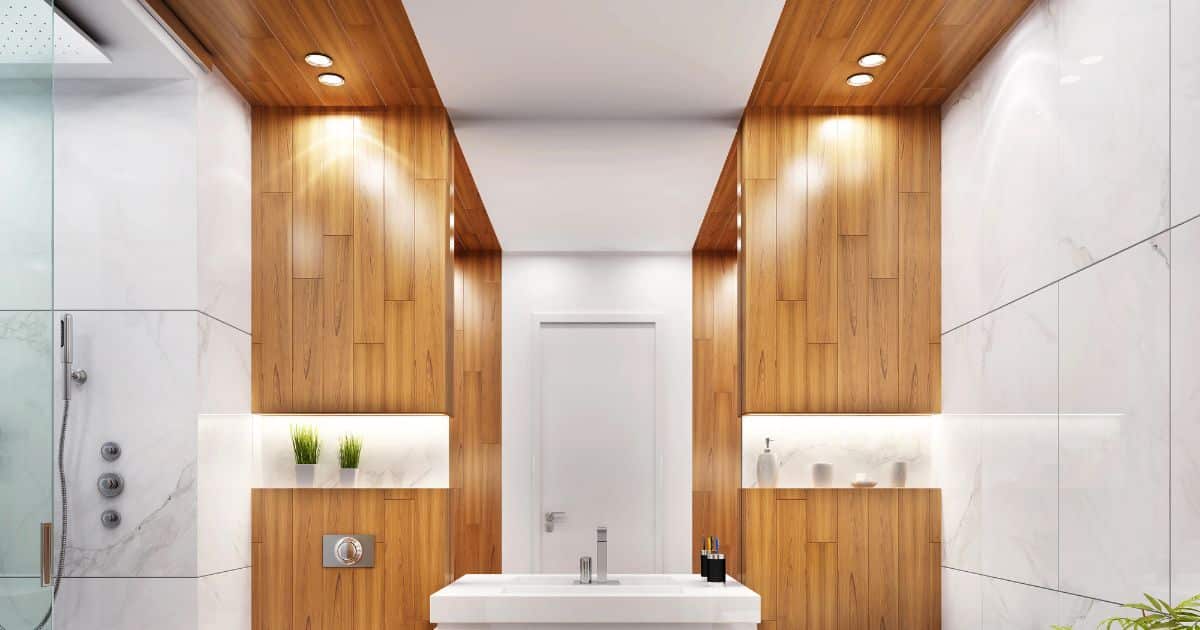 Considering a bathroom makeover? Don't forget to glance upwards! Our bathroom ceiling ideas in this blog may have the power to completely revamp your space. Read on to bring a fresh and fashionable flair to your personal haven.
A Burst of Color
Incorporating colors in your bathroom can be both exciting and transformative. When selecting the right color for your bathroom ceiling, consider the style and theme of the space. Here are some bathroom styles and the colors that will best suit them:
Modern and Minimalist
For a modern and minimalist bathroom, choose a neutral color palette for your ceiling. Shades like gray, white, or beige work well in creating a clean and polished look. Alternatively, you can opt for a contrasting dark shade like black or charcoal for a bolder statement.
Coastal or Nautical
If your bathroom has a coastal or nautical theme, consider painting the ceiling in a soft pastel blue or seafoam green. These colors will evoke a sense of serenity and relaxation, reminiscent of the ocean.
Vintage or Retro
For vintage or retro-inspired bathrooms, choose warm and inviting colors like peach, mint green, or pale yellow. These tones will give your ceiling a charming and nostalgic feel, enhancing the overall design.
Eclectic
If your bathroom style is eclectic, you can experiment with more daring and vibrant colors on your ceiling. Think about using jewel tones like emerald green, sapphire blue, or deep purple to create an attention-grabbing focal point.
Spa-Like
For a spa-like bathroom ambiance, choose soothing colors for your ceiling, such as pale lavender or a muted shade of green. These calming tones will help to create a peaceful and rejuvenating environment.
Industrial
In an industrial-style bathroom, opt for darker and earthier shades like dark gray or deep brown for your ceiling. These colors will complement the raw materials and finishes commonly found in industrial designs.
Rustic or Farmhouse
If you have a rustic or farmhouse-style bathroom, consider using earthy tones for your ceiling, such as warm beige, taupe, or sage green. These colors will add a sense of warmth and comfort to the space.
Picking Appropriate Materials
When deciding on the most suitable material for your bathroom ceiling, it's vital to take into account aspects like longevity, resistance to moisture, and visual attractiveness. One commonly preferred choice is humidity-resistant gypsum board, also known as green board. This material is particularly fitting for damp spaces like bathrooms, presenting a seamless surface that can be effortlessly painted or decorated with wallpaper.
In addition, you might consider PVC ceiling panels as they possess excellent water-resistant qualities, are uncomplicated to install, and are available in numerous colors and styles. Another alternative is a cement board, which is exceptionally robust and resistant to water, making it a great option for bathroom applications.
Cool Beadboard
If you want a classic and never-out-of-style look, think about putting beadboard on your bathroom ceiling. Beadboard is made from slim wooden strips put together vertically, making a fancy pattern. You can paint it any color to match your bathroom's vibe, and it gives a cozy, cottage-like feel. Beadboard is also great for hiding a not-so-pretty ceiling.
Light It Up
Having the right lighting is super important for a bathroom that works well and feels relaxing. Think about adding hidden lighting or trendy hanging lights to brighten the room. You can also put LED strip lights around the edges of the ceiling for a sleek, modern look. Choose lights you can dim so you can set the perfect mood for a chill bath or a wake-me-up morning routine.
Keep It Dry
To stop water damage and mold from growing, you need to make sure your bathroom ceiling is waterproof. Start by putting on a primer made for wet places. Then, use water-resistant paint or materials like PVC panels or cement boards that can handle moisture. And don't forget to have good ventilation with an exhaust fan to keep the humidity levels low.
Creative Ceiling Art
Unleash your artistic side by incorporating ceiling art into your bathroom design. You can hire a professional muralist or try your hand at a DIY project. Consider painting a beautiful landscape, abstract patterns, or even a whimsical scene on your bathroom ceiling. This unique touch will make your bathroom a conversation starter and a true reflection of your personality.
Suspended Ceilings
Suspended ceilings, also known as drop ceilings, are a practical and stylish option for your bathroom. They consist of a metal grid system with removable panels, allowing easy access to plumbing and electrical systems. You can choose from various materials like acoustic tiles, metal, or even wood panels to create a stunning and functional bathroom ceiling.
FAQs on Bathroom Ceiling Ideas
What is the best material to use on a bathroom ceiling?
The ideal material for a bathroom ceiling should be moisture-resistant, durable, and aesthetically pleasing. Some popular options include moisture-resistant gypsum board (green board), PVC ceiling panels, and cement board. 
How can you make a bathroom ceiling waterproof?
To create a waterproof bathroom ceiling, adhere to the following steps:
Use a primer specifically formulated for moist settings.

Opt for water-resistant materials such as PVC panels, cement boards, or moisture-resistant gypsum boards for the ceiling.

If you prefer a painted surface, apply water-resistant paint.

Install an exhaust fan to maintain adequate ventilation, reduce humidity levels, and prevent mold formation.
How do you cover a bad bathroom ceiling?
There are several ways to cover up a damaged or unsightly bathroom ceiling:
Install a suspended ceiling or drop ceiling system, which allows you to choose from various materials like acoustic tiles, metal, or wood panels.

Apply beadboard for a classic and timeless look, which can be painted to match your bathroom's decor.

Use PVC panels or moisture-resistant gypsum board to create a smooth, waterproof surface that can be painted or covered with wallpaper.
Creating a Unique Statement with Bathroom Ceiling Ideas
As you can see, there are numerous bathroom ceiling ideas to explore, each offering its unique touch of style and practicality. From bold colors and creative ceiling art to durable materials and proper waterproofing, these ideas will inspire you to elevate your bathroom's design. So, go ahead and give your bathroom ceiling the attention it deserves, and enjoy a refreshed and stylish space.