You should be aware of the bathroom remodel costs in Falls Church before starting a renovation project. While looking at national averages can give a general idea, such estimates typically do not incorporate factors that can affect the final price, such as local labor rates, material costs, and local permits.
Almost every homeowner dreams about a splendid, picturesque bathroom of their dreams. Unfortunately, financial constraints prevent many of them from undertaking an actual bathroom remodeling project.
Despite a limited budget, it is possible to create a desirable bathroom. For that, one needs to understand the various aspects of bathroom renovation costs properly.
Average Bathroom Remodel Costs in Falls Church
To estimate the cost of bathroom remodeling in Falls Church, we should begin with a low or average number and start working around it. A recent Cost vs. Value report in Remodeling Magazine claims that the essential cost of remodeling a general 5' x 7' bathroom is around $16,000.
Several factors influence the bathroom remodel costs in Falls Church. They include the ease of access, the complexity of tiling, size of the space, number of fixtures, ventilation issues, and many more.
Upgrades that go beyond basic requirements cost much more. Below is a comprehensive list of items and areas that can increase the cost of bathroom remodeling in Falls Church.
Demolishing Your Bathroom
Demolition accounts for a large portion of the bathroom remodel costs in Falls Church. Although you can renovate with minimal demolition, removing everything generally leads to better results. It also helps your contractor prepare the new walls for attaching new fixtures securely.
Cost of Bathroom Fixtures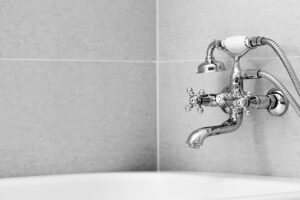 You can choose to go for a tub or shower that is purely perfunctory or one which is more luxurious and extravagant. The latter option, of course, will add to your cost of bathroom remodeling in Falls Church. If you can afford it, you can choose from a range of tolerant varieties like porcelain or steel tubs.
When we speak of lavish fixtures, most people in Falls Church envision oil-rubbed bronze or brushed nickel. Although these high-end items will cost you hundreds of dollars, they will also significantly enhance the aesthetics of your bathroom. Consider your budget and then make an informed choice in this regard.
Tiling Your Bathroom
Homeowners in Falls Church generally consider standard off-white 4"x4" tiling to be outdated. Instead, tiles featuring exquisite patterns and creative designs are highly popular among customers. Many people go for features and accents like corner soap dishes, shower lockers, and shampoo niches as well.
Think About Ventilation
If you have an older bathroom, it is important to improve the ventilation. Generally, old vent fans are not efficient and lead to a build-up of the excess moisture inside the bathroom. To rectify that, you should consider purchasing a more powerful fan.
Although a ventilation fan will cost you a lot, it will also prevent the growth of mold and mildew in your space. You can aid in this process by selecting certain varieties of high-quality paint as well.
Bathroom Countertops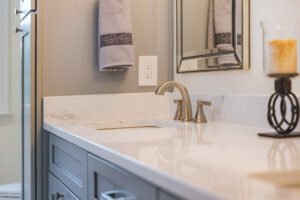 Bathroom countertops play a significant role in the bathroom remodeling process. In this regard, most customers in Falls Church tend to go for granite or quartz as materials of choice for their countertops. Both of these materials are highly valued and have their unique pros and cons. Similarly, they also contribute significantly to the cost of bathroom remodeling in Falls Church.
Considering these factors and other potentially expensive upgrades, such as cabinetry, mirrors, and lighting, the cost of remodeling a 5'x8' bathroom in Falls Church would roughly be around $20,000 to $24,000. When it comes to the overall value that comes with a bathroom remodel, the cost should be seen as an investment in your daily life and the future of your home.