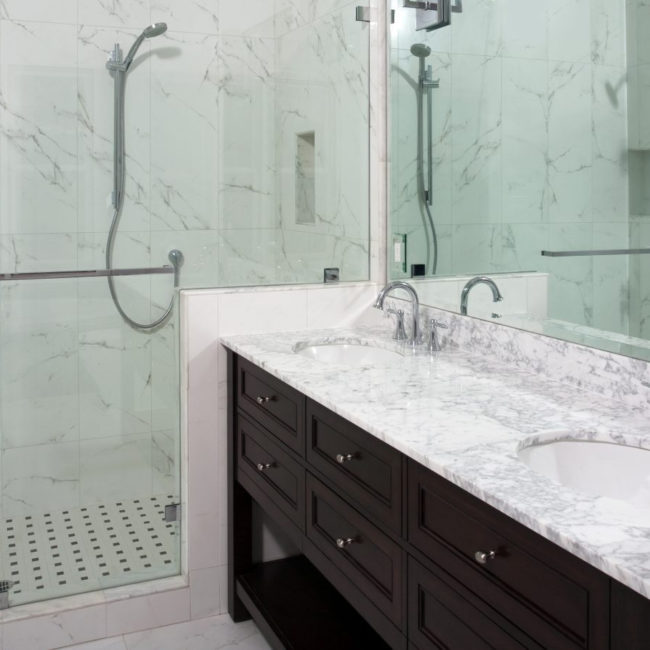 Making Your Bathroom Contemporary
The first thing you should consider when you decide to remodel your bathroom is the type of style that truly reflects your personal taste. The contemporary style is a favorite amongst many homeowners that prefer a clean bathroom that is void of any clutter more than ideal. If you would like a contemporary style incorporated into your bathroom remodel, then you should follow some of these suggestions from NV Kitchen and Bath.
Insist on unbroken lines
Contemporary styles in the bathroom always feature unbroken vertical and horizontal lines. There is no space for curvy or wavy lines and planes in a contemporary styled bathroom. The cabinets should also be equal sided in order for them to be in line with the rest of the design of the bathroom.
Stick to the essentials
A truly authentic contemporary bathroom is minimalist, with as few ornaments and decorations as possible. There are no face frames for the cabinets or moldings around the bathroom. The tiles are simple, and lack complex patterns that go up the wall. The cabinet doors and the vanities should have smooth surfaces and simple planes. In most instances when it comes to contemporary style, the countertops mostly have quartz lines rather than intricate designs and patterns.
Polished chrome finishes
Chrome is a favorite amongst contemporary style enthusiasts because of its sleek look. Majority of the faucets, knobs, and drains have polished chrome finishes to make the bathroom look more sophisticated. Chrome is popular in this bathroom style because it lasts longer than other materials, and it is easy to clean and maintain.
The lighting in a bathroom that is leaning towards contemporary styling is always simple. The lighting fixtures come in basic shapes, and functionality is the key emphasis. You will hardly find any ornamental lighting fixtures in such a bathroom.