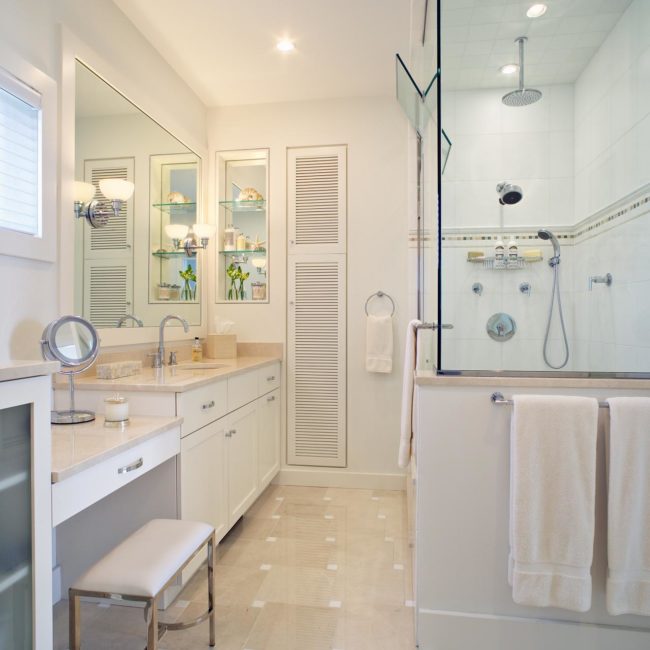 A backsplash can serve multiple purposes in the kitchen. You can use this area to enhance the beauty and character of the kitchen. You can also use it to optimize on space in the kitchen by using the backsplash as storage for some of the kitchen items that you use on a regular basis. NV Kitchen and Bath is here to let you know of some of the ways you can add functionality to your backsplash.
Install a hanging system
If you have cabinets slightly above the backsplash, you can anchor a hanging accessory below the bottom end of the cabinet. Here, you can hang the utensils you use most while cooking, which makes them easily accessible.
The hanging accessory should reach within the boundaries of the backsplash. If you have an electrical outlet also located on the backsplash, ensure that the hanging accessory does not hinder access to it.  In addition, take into consideration the needs of the disabled and the children in your home before placing knives on a magnetic hanging accessory. These individuals have an issue with grasping, and this may cause a hazardous scenario for them.
2.Create shelves
Another nifty way of adding functionality to your backsplash is by installing shelves on it. Backsplash shelving is the best option in instances where you do not have cabinets above the backsplash. In most instances, the shelves are anchored to the suds of the walls to ensure that they remain stable regardless of the load on top of them.
3. Install a wine-rack
Wine racks are a great way to accessorize your backsplash, and enhance its functionality. This is a unique and fun idea that create a sophisticated feel in the kitchen, as well as ensure that your best wines are easily accessible. You need to speak to your remodeling contractor on whether your backsplash has the right material for a wine-rack installation.